Ramps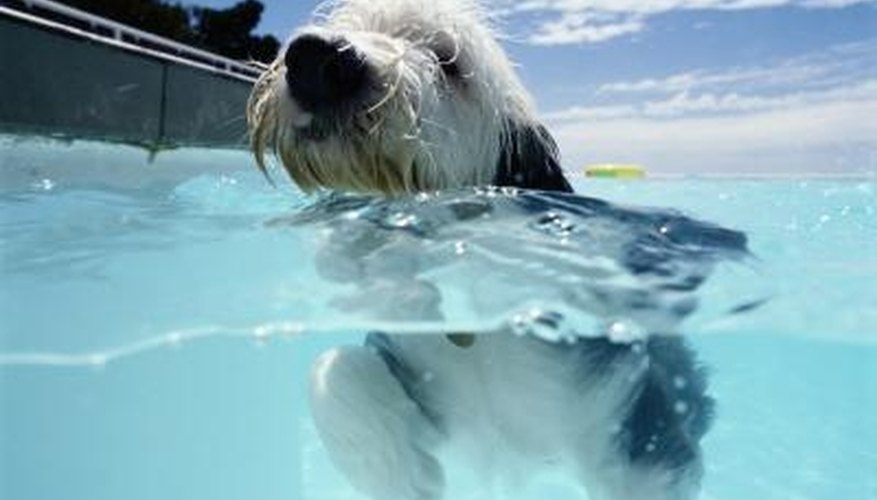 Companies offering dog supplies have a variety of ramp products that can be used inside the pool to help your dog get out. The "scamper ramp" is a plastic ramp covered with non-slip rubber material that fastens onto the sides of the pool and uses the water for flotation.
Some ramp models have removable legs that can be attached to the underside of the ramp, enabling better support in the water. The dog needs swim onto the ramp and then scamper up it to get out of the water. This is only effective, however, with dogs that are young and fit and will not work as well for an elderly or overweight animal, or a tiny pet.
Portable Stairs
Several models of pool stairs are available from the pool and accessory retailers. The stairs are immersed in the water at the edge of the pool and secured against the frame. Some models have a ladder that fits against the outside of the pool. This is only suitable for humans, as few dogs are able to use a ladder. A set of stairs used inside the pool and aligned with another set on the outside may work, provided the steps are wide enough for your dog. Make sure the surface of the outside stairs is non-slip under the dog's paws, or glue rubber matting onto each step for better grip.
A-Frame
The typical A-frame apparatus used on dog agility courses can offer a temporary solution, if your dog is familiar with the frame and fit enough to use it. The A-frame is made of two wooden or aluminum panels lined with rubber, which are assembled by hooking one panel onto the other at the top of the A. The dog scrambles up one side, over the top and down the other side. Place one panel inside the above-ground pool wall and the other on the outside. This is especially useful if you don't want the dog to swim without supervision, as it can be set up only when you need it.
In an Emergency
If your dog has managed to get into the pool and you are not able to lift it out, an emergency measure could be to place a plastic garden chair against the side of the pool for the dog to stand on. This will give it support and provide you with leverage to pull it out. Take care that the dogs doesn't get injured by jumping to the ground once you get it out.