Species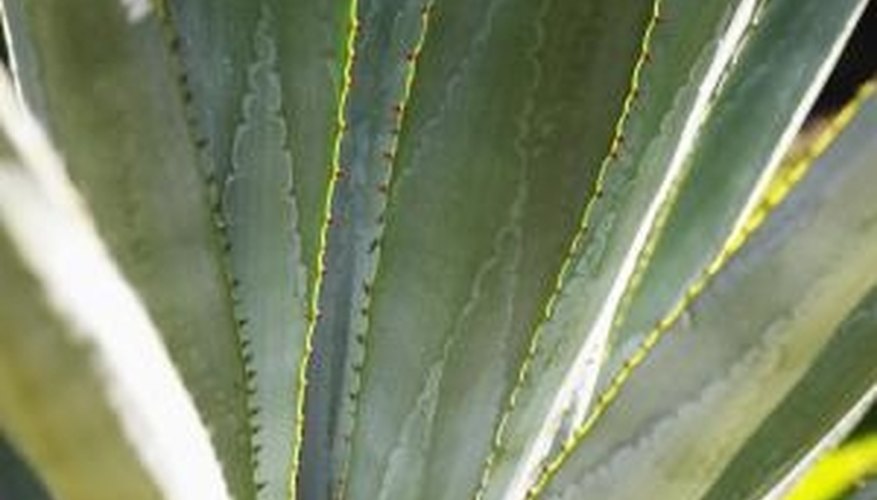 The blue agave--also known as the century plant--has over 300 known species. Most of the agave species are monocarpic plants, meaning that it grows, flowers, sets seeds and dies, but some are known to flower several times during their lifetime. The flowers of the agave contain parts for both sexes and are pollinated by bats. The bats and the insects they feed on are attracted to the agave plant through the scent of the flower which gives off a musky perfume. Some species produce a more sweet-smelling blossom to attract more insects than not. The plant was named for the Aztec goddess Mayahuel who represents fertility, alcohol and pulque, which is a milky-looking alcoholic derivative of the agave plant.
Uses
Native Americans used the interior of the agave plant for its fibers to weave cloth including blankets and shirts. The best fibers tend to come from the youngest of leaves and are prized for their softness. By the middle of the 20th century, the agave fiber was second only to cotton in production. There are several different kinds of agave fiber, including the henequen or Mexican sissal from the Yucatan Peninsula, which is hard, elastic and wiry.
Tequila is produced from the heart of the blue agave plant, which is accessed by cutting off its long leaves. The most expensive distilled beverage in the world is made from 100 percent distilled blue agave plant, with over 1,000 brands of tequila on the market today.
Growing Conditions
Different species of agave react differently to growing conditions, with some plants being much more tolerant of cold weather than others. By and large, the agave plant likes dry conditions found in its natural habitat. Agave plant species such as the Agave Americana need quite a lot of room to grow as their leaves can reach six feet in length, with some species growing as high as 15 feet. The agave plant grows best in zones 9b-10 and does well in sandy soil that drains quickly.
Propagating
Agave plants will flower and die, but not without producing several baby plants around its base. These can be easily transplanted and are considered beneficial to the mother plant. Wear gloves to protect your hands from the plant's spiny back and clear away the dirt and vegetation from around the bottom of the parent plant and try to determine the direction from which the plant is growing. Try to work your trowel around the roots as best you can without breaking them, and take out the baby plant and relocate. If the roots will be exposed for a while, wrap in moistened material until you can transplant properly.