Acrylic Paint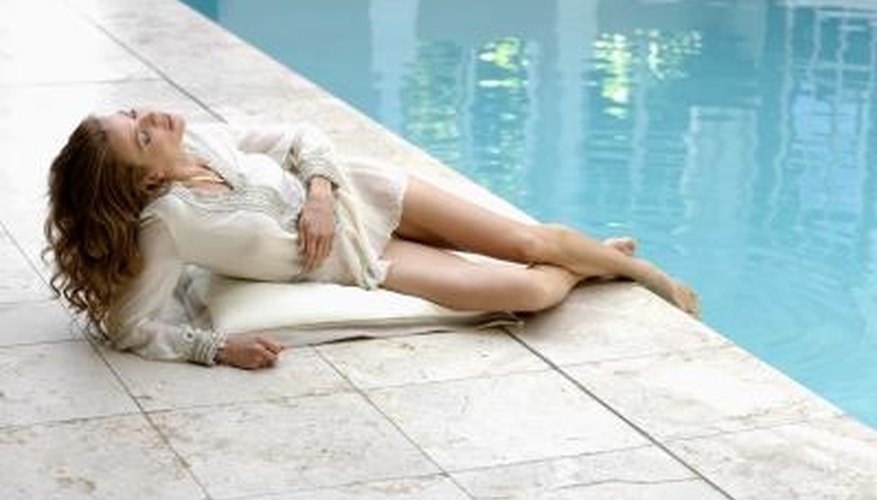 Acrylic deck paint is easy to apply and is water-based. It sticks to most swimming pool deck materials including concrete and textured finishes and comes in matte and gloss. It washes off hands and rollers easily with soap and water. It does not fade quickly from the sun's ultra violet rays or the continuous exposure to pool chemicals. The primary advantage of acrylic paint is that it dries quickly and may be dry within 48 hours of application. The downside is that it is not as durable as other paints and will need to be reapplied within two years.
Epoxy Paint
Epoxy deck coating contains resin and silicone and forms a hard protective coating. It can be applied to all types of surfaces including inside the pool itself. Epoxy paint is nonporous, smooth and easy to clean and has superior resistance to pool chemicals, the sun's rays and algae. Epoxy takes longer to dry than acrylic paint and cleanup requires chemicals, but it will last for up to eight years before it will need to be redone.
Rubber Paint
Rubber paint coatings have been used for pool decks for more than 70 years. Their durability, superior coverage and nonslip qualities make them desirable, and their high-gloss smooth finish makes the deck easy to clean. The old type of rubber paints contain chlorine, and the recent trend away from potentially hazardous chemicals has made them less popular. However, new environmentally friendly types are now available. Epoxy deck paint takes five days to dry and is estimated to last for three years.
Other Products
A nonskid additive can offer peace of mind when children are likely to use the pool. Some types are made from granules that are sprinkled onto the paint between coats. Others may be sprayed or painted on after painting. Several types of nonslip products are available, and it is important to choose the correct brand for the type of paint you are using.