Math Matters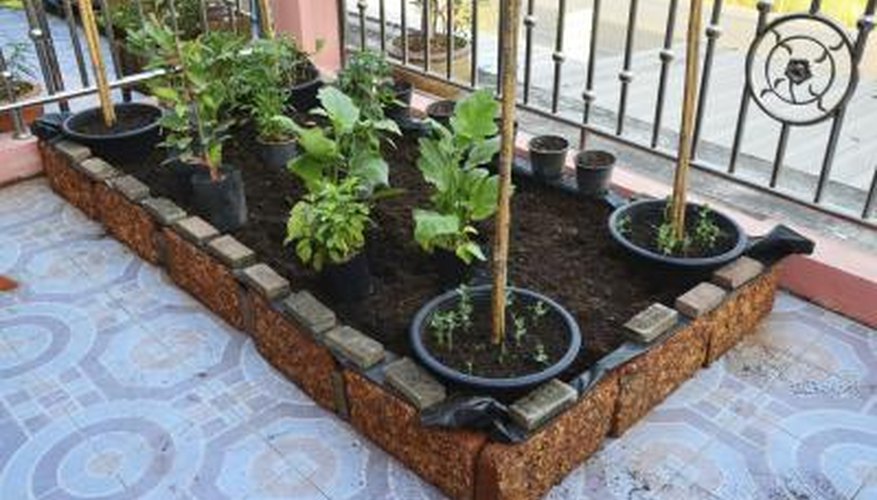 Soil and amendments are usually sold in cubic feet or yards. Multiplying the length, width and depth provides the volume of the raised bed in cubic feet. For an 8- by 4- by 1-foot bed, multiply 8 by 4, and then by 1, to get the final measurement of 32 cubic feet. If your bed measurement combines feet and inches, convert all the measurements to inches before multiplying the numbers together, and then divide the answer by 1,728 to convert the cubic inches to cubic feet.
Making Amends
The right soil mixture can make or break the success of your raised bed. Plain garden soil or purchased topsoil won't provide the best growing medium because it tends to crust over or become compacted. Instead, mix the soil with compost or peat moss and sand to add some organic matter and improve drainage and moisture retention. Try 1 part peat or compost and 1 part coarse sand or perlite with 2 parts soil. For an 8- by 4- by 1-foot bed, you would need 8 cubic feet each of compost and sand, and 16 cubic feet soil to give you the 32 cubic feet of medium for filling the bed.
The Right Mix
Mixing the soil or topsoil with the amendments thoroughly before filling the bed ensures you have a well-blended, even soil texture without compacted lumps. You can mix the topsoil with the amendments in a wheelbarrow and then dump it into the raised bed frame, but it may take several wheelbarrow loads to fill the bed completely. Mixing right in the bed also works if you do it the right way. Fill the bed with a 2-inch layer of the topsoil, topped by a 1-inch layer of compost and a 1-inch layer of sand. Mix these layers together well with a hoe or spade. Repeat the layering and mixing until the bed is filled.
Careful Feeding
Although the compost provides some nutrients, most plants will grow better with additional fertilizer. Try using 1 1/4 pounds, or 2 1/2 cups, of a granular 8-32-16 fertilizer for a 32-square-foot, or 8- by 4- by 1-foot, raised vegetable garden. Sprinkle the fertilizer over the surface of the soil evenly and work it into the full depth of the raised bed. You can also mix in the fertilizer when you first fill the bed with soil. Apply the fertilizer before planting and water the bed so the soil is moist. The moist soil helps the granules break down and dilute in the soil they don't burn the plant roots.