Cul-de-sac Landscaping and Neighbors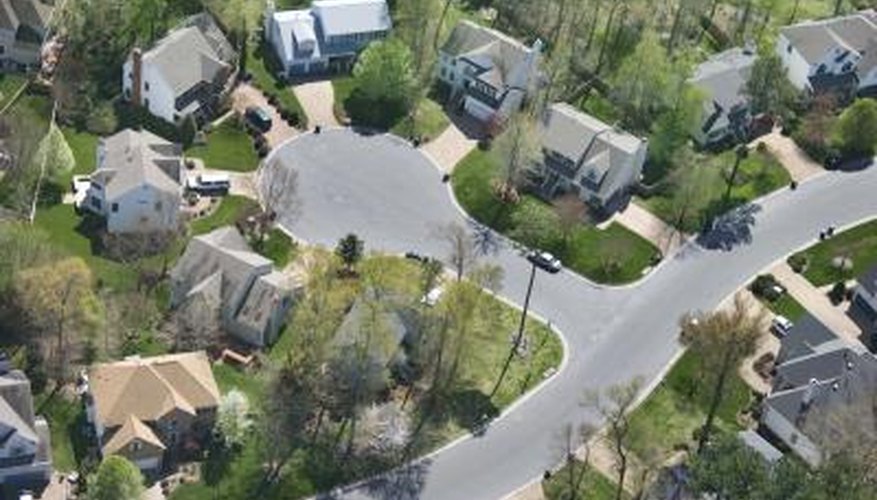 The narrow frontage of cul-de-sac homes creates the potential for your landscaping to affect your neighbors on either side. For instance, planting trees that drop their fruit or shed their leaves into the neighbors' yards may create hard feelings toward you on their part. Planting invasive plants that can creep into the yards of other homes can also cause problems. Before you make a final landscaping plan for the front yard, ensure that you opt for plants, trees and flowers that will remain in your own space and not inconvenience the neighbors.
Setting Your Home Apart
Often, homes situated on cul-de-sacs resemble the other homes on the circle. While there's nothing wrong with a sense of cohesiveness, most people like to put their individual stamp on their home. The objective with a cul-de-sac home is to create a sense of individuality without ruining the comprehensive look of the area. Install a tasteful fountain, a statue that reflects the style of the home or a small pond that brings beauty to the front yard. Other options include an installing an archway covered with climbing vines or a trellis that's host to colorful trailing flowers.
Creating Privacy
The smaller front yards of homes on a cul-de-sac can wreak havoc with your family's privacy. While you may spend more time in the back yard as opposed to the front, it's still nice to know that you're not on public display while in the front yard. Consider installing strategically placed patches of ornamental grass, lattice panels that screen the view or weeping trees with branches that trail downward and create a shield between you and the neighbors. Other options include hedges, tall perennial flowers or large containers of plants that grow to a useful height.
Working With a Small Space
Since the front yard of a cul-de-sac home is typically smaller than the back yard, it's important that you avoid overfilling the front yard and overwhelming the space. Opt for smaller, ornamental trees; leave open spaces, rather than filling every square inch of land; and consider the scale of the plants, shrubs and flowers you select in contrast with the size of your house. Another way to avoid overwhelming a small space is to limit your landscaping choices to two or three types of plants. Instead of choosing 10 varieties of greenery, select a few that you especially like and let their simplicity speak for itself.