General Fertilizing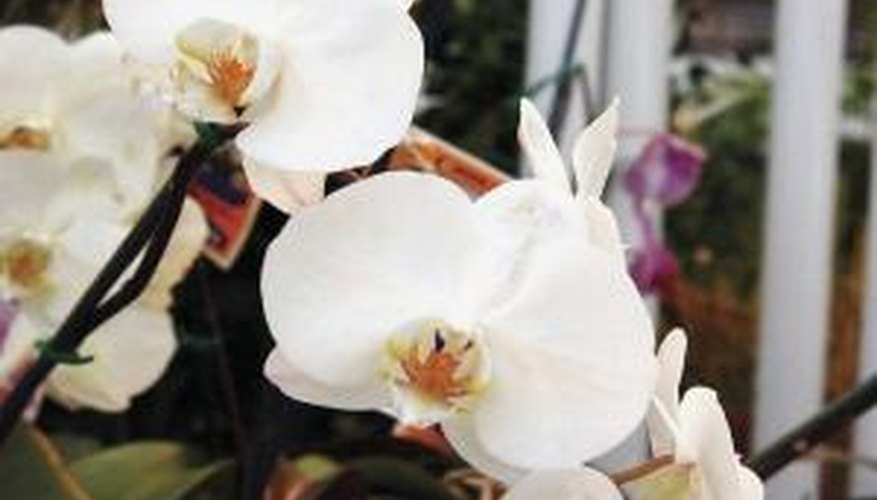 Phalaenopsis orchids typically thrive on balanced, watered-down fertilizer applied about once a week -- though skipping a week doesn't hurt. If your moth orchid grows in bark, it needs extra nitrogen, making a fertilizer with a 30-10-10 ratio of nitrogen, phosphorus and potassium appropriate. Orchids grown in other materials, such as moss, prefer a balanced food.
Bloom Booster Formula
While nitrogen is responsible for green growth, phosphorus encourages root growth and flowering. This means that boosting the phosphorus content of your orchid food can help induce flowering. An appropriate bloom booster formula for a Phalaenopsis orchid is 10-30-20, though you should still provide extra nitrogen for an orchid grown in bark.
When to Apply
Fertilize your moth orchid about once a week or every two weeks during the growing season, reducing the frequency to roughly once a month during winter dormancy. The smartest time to apply a high phosphorus fertilizer is in November, which is just before your Phalaenopsis orchid begins setting its flower buds for the next blooming cycle. However, since some moth orchids can bloom more than once a year, it's safe to feed them a bloom booster formula about every other month to encourage new blossoms and keep current flowers healthy.
Extra Reblooming Tips
Phalaenopsis orchids are rebloomers, which means that trimming them can encourage a second round of blossoms. This means that your orchid's flowering can last for weeks or even months at a time with successful pruning. When you notice a flower fading, just snip it back to a green area below the flower and above a node, which may produce a new blossom. This type of trimming can be even more successful in encouraging moth orchids to blossom than merely feeding them phosphorus.