Poolside Activities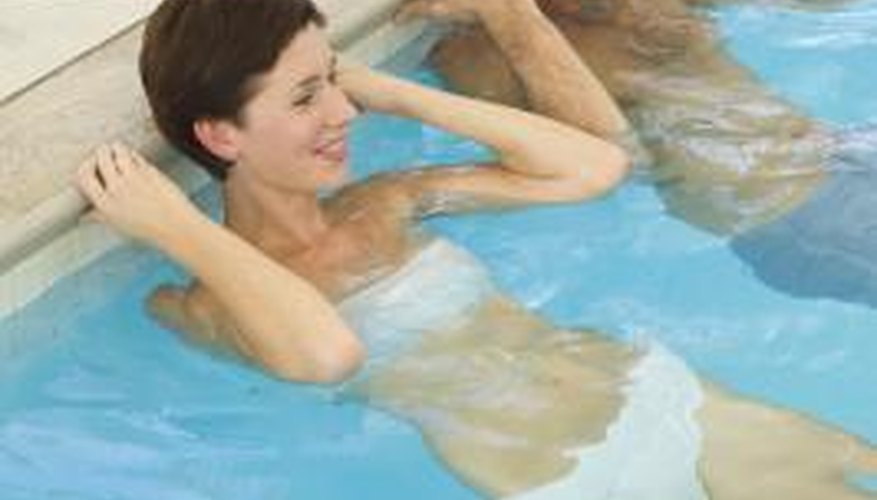 The first thing you might notice about your new pool is you spend more time relaxing around it than actually in it, and there's nothing wrong with that. It's supposed to be relaxing. The secret is to anticipate ahead of time which poolside activities you'll be most likely to engage in and make sure you provide enough space. Take into account that basic accessories like a diving board or slide will likely require anywhere from 6 to 15 feet of space for safe installation and usage.
Seating
A favorite poolside activity is sitting or sunning, and you probably want to make sure your furniture is outside the splash zone. For example, two chaise lounges need 7 feet of deck space, while a conversation area for several people will require about 10 feet of space from the pool's edge. These dimensions might seem overly large, but take into account that being crammed together is not the most relaxing environment, plus there should be about 3 feet between any patio furniture and the edge of the pool.
Dining
Grilling and dining beside the pool are other activities perfectly suited for your pool deck -- if it's large enough. River Pools and Spas recommends you reserve a 10-foot by 10-foot space for a four-person table and a 12-foot square space for six people. A grill and small prep table will probably need at least a 6-foot square. If you decide to incorporate a hot tub into the layout, expect that you'll need another 10-foot square chunk of poolside real estate.
Considerations
While the amount of room required around your swimming pool largely depends upon how you plan to use the space, the most important factors might be the size of your yard and the pool itself, because they place a hard limit on what you have to work with. A minimum 3-foot strip around the pool's perimeter would provide for walking room and little else. The more you plan to do in the vicinity, the larger the patio area should be. It would be a good idea to draw up a blueprint first, trying to anticipate your space needs, then design and budget accordingly.