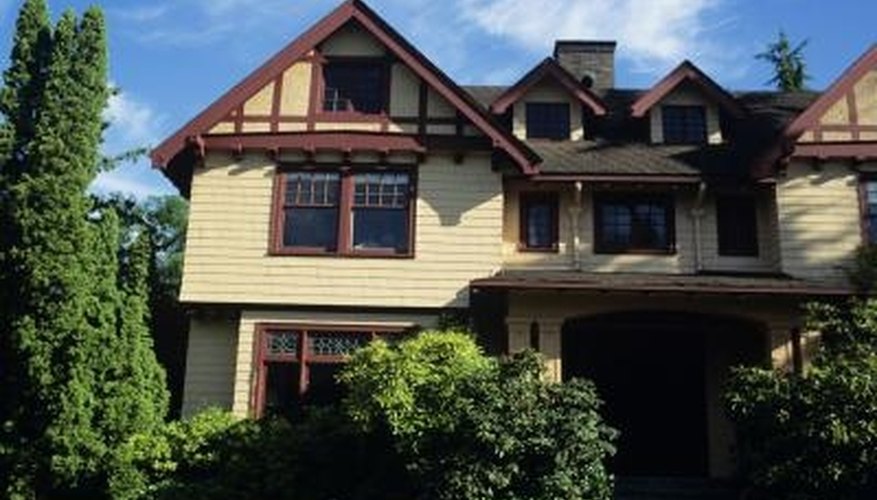 Plant columnar evergreen shrubs near the front door to accent the entryway's pointed gable and frame the door's rounded top. Select shrubs that remain narrow as they mature so the foliage does not obscure the house's design lines. Emerald Green Arborvitae, Thuja occidentalis "Smaragd," for example, grows 3 feet wide and may be pruned to an even thinner profile.
Position shade trees at the side of the house where the trees won't block the Tudor-style front facade. For shade at the front of the house, plant large-sized trees, such as red maple "Acer rubrum," near the sidewalk where their shadow falls on the house and won't obscure the view from street level. Situate tall evergreens behind the house as an attractive backdrop to your home.
Select low-growing foundation plants for the front of a Tudor house with decorative brickwork as one of its design elements. Accent the color and texture of the building material with dwarf varieties of Norway Spruce, Picea abies, and small-leaved cotoneaster, Cotoneaster microphyllus, which has both early-summer flowers and evergreen leaves.
Create ornamental topiary at the end of the sidewalk and driveway to reference the historic design roots of your Tudor-style house. Shape and prune evergreen or small-leaf deciduous plants on wire frames to create simple forms like spheres, boxes and pyramids. Use clipped boxwood and yew shrubs for a delicate appearance and shiny-leaf holly for a bolder visual impact.
Grow a knot garden, a style that originated in Tudor England, in the side yard where it can be easily seen though the windows from inside the house. Lay out geometric, intertwining shapes in flowing, circular patterns. Plant fragrant herbs or small flowering shrubs to outline the pattern. Fill in the open spaces with culinary herbs, colorful annuals and attractive vegetables such as cabbage, chard and lettuce.