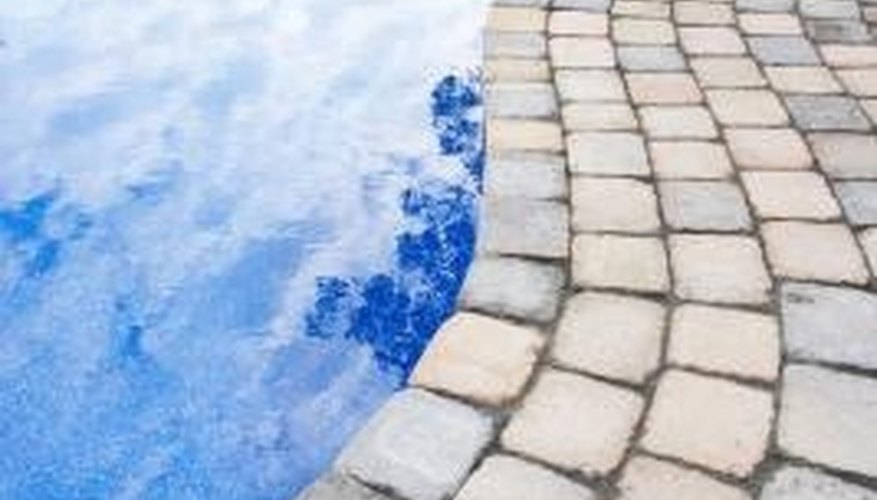 Turn the breaker off, and ensure that the light switch is turned off.
Reach your hand into the water, and remove the stainless screw at the top portion of the light.
Remove the light fixture from the niche by hand, or with a flat head screwdriver. Some pools have a small tab at the bottom of the fixture to help you pop the fixture out. Bring the fixture to the pool surface and onto the deck.
Place the fixture on a towel and dismantle the unit by removing the screws or undoing the tabs, depending upon your lighting model. Discard of a broken lens, if applicable.
Cover the bulb with a washrag, and remove the bulb by twisting counter-clockwise. If you have a halogen lamp, you may need to push downward as you twist the bulb out. Dispose of the damaged bulb.
Clean and dry-out the inside of the fixture with a dry cloth. Check for any crumbling or rusting parts --- such as screws --- and replace as necessary.
Install the new pool bulb in the fixture unit; only use bulbs specifically intended to work inside your pool.
Test the new bulb by turning on the breaker, then flipping the switch on the light for 1 to 2 seconds to ensure the light works. Never operate a pool light out of the water for more than 1 to 2 seconds; the light needs the water around it to keep it from overheating. Turn the breaker off again.
Install a new lens, if necessary, or replace the undamaged lens back into the fixture. Reassemble the fixture, by installing a new rubber lens gasket in the same position as the old one. Don't reuse an old gasket; the seal won't be tight enough.
Check for a good gasket seal by placing the unit in the water. You may notice a few bubbles coming from the ring; however if you see streaming bubbles you'll need to pull it out, re-screw it and check again for air leaks.
Replace the unit in the pool, making sure to coil the long cords inside the cavity. Ensure that the light is lined up correctly, with the flat-head screw at the 12 o'clock position, and the tab near the bottom. Secure the screw until it is snug, but not too tight.
Retest the light again by turning on the breaker and flipping the switch.