The Foundation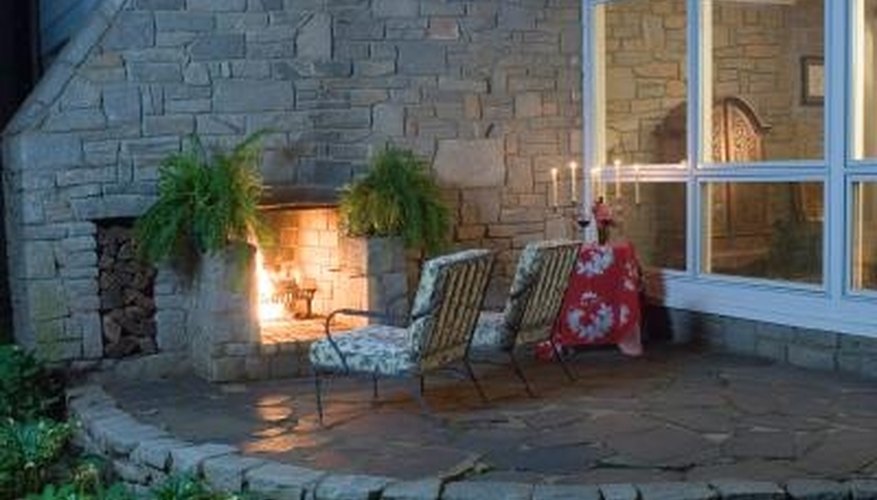 Measure out the area where you want to build the patio. Select a level area for the best results. Decide on the shape of the patio. Paint a line on the ground to serve as a guide for building the patio.
Dig 5 inches deep around the perimeter of the spray-painted line. Dig out the center area. Continue digging until the entire patio area is 5 inches deeper than the ground level.
Spread a thick layer of gravel in the patio area. Tamp the gravel down and add more if needed to create a 3-inch-thick layer. This will provide proper drainage for the patio.
Cut strips of landscape fabric to fit over the gravel layer. Place two layers of fabric over the entire patio area. This will prevent weeds from growing in the cracks of the patio.
Place several 1-inch boards over the landscape fabric. These will act as a guide for the height of the sand layer and will also hold the fabric down.
Shovel the sand onto the landscape fabric. Use the wood boards as your guide to spread the sand in a 1-inch layer.
Saturate the sand with water; lightly tamp the sand down. Add more sand until it barely covers the tops of the boards. Lay another board across all of the boards to check for levelness of the sand. Add more sand or water as needed. Remove all the boards and fill their holes with sand.
Laying the Stone
Place a flat stone along the edge of the patio area. Lightly pound it in place with a rubber mallet. Check the stone for levelness, then adjust as necessary.
Continue laying stones around the outside of the patio area. Place them as close together as possible. Pound them in place, using the same method as described in Step 1.
Start laying stones in the interior of the patio area. Pound the stones in place, keeping them level with the other stones. Fit smaller stones into any open areas. Cover all the open spaces with the stones.
Mix three parts sand with one part dry mortar. Spread the mixture between the stones on the patio. Fill all the cracks with the mixture, being sure to pack it tightly.
Spray water over the completed patio. This will cause the mortar to harden and hold the stones in place.