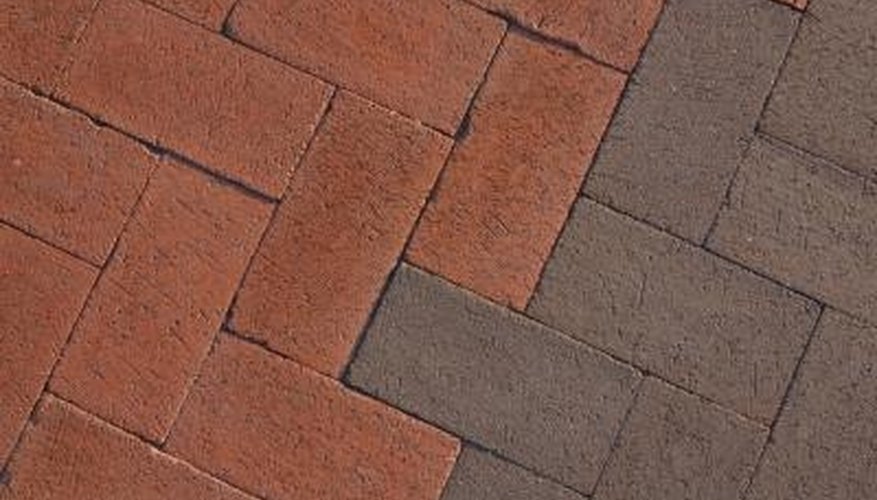 Measure the site where you plan to lay interlocking pavers, and outline the four corners with wooden stakes and a string.
Dig out the site until the surface is an even 8 inches below ground. Continue digging until the surface is below the frost line to prevent frost heave damage if your area is prone to freezing temperatures.
Prevent weeds from growing through the foundation by laying a mesh weed screen or landscape fabric over the surface.
Secure edging to the border of the site to keep the interlocking pavers in place as they settle over time. Drive a 10-inch spike through wood or the slots in metal edging.
Add a 6-inch layer of gravel over the weed screen, and use a 2-by-4 board to spread it evenly. Slope the gravel surface 1 inch for every 4 feet to direct water runoff away from the home's foundation.
Compact the gravel surface with a metal plate compactor or a hand tamper.
Spread 2 inches of sand over the gravel and smooth the sand until it is even.
Place interlocking pavers according to your pattern or the diagram provided with the paver set, beginning at an outer corner. Set the pavers so they are flush against each other. Tap small sections into the sand with a rubber mallet as you go.
Brush fine sand over the surface once all of the interlocking pavers are in place. Use a stiff shop broom to work the sand between the joints to cushion the pavers.