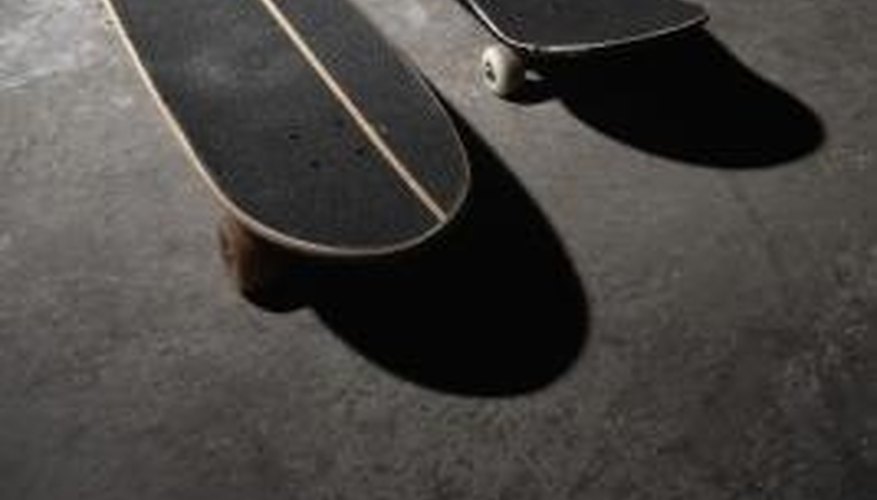 Clean the floor thoroughly. Dirt, grime, grease and other pollutants can prevent the sealant from adhering to and protecting your floors properly. Sweep or vacuum the floor to remove the materials. Pour cat litter on grease stains to absorb the sticky liquid. Clean the floor with an all-purpose floor cleaner and a mop or scrub brush. Allow the floor to thoroughly dry, which will likely take about 24 hours.
Pour the sealant into a paint pan. Dip a paint roller fitted with a long handle inside. Push the roller back and forth on the textured section of the pan to remove the excess sealant.
Roll the sealant onto the floor, starting at the top corner of the room. Work your way from side to side until you have reached the bottom of the room. Apply the sealant in a thin coat and avoid creating puddles. Use a paint brush to apply the sealant to edges and corners in which the roller can't reach. Allow the sealant to dry, which will likely take about two hours.
Apply a second coat of the sealer within four hours of the first coat's application. If you wait longer than four hours to apply the second layer, the first layer will become too hard to bond to another layer. Leave the room and avoid subjecting the floor to foot traffic for at least four hours. Most sealants take three or four days to cure.
Apply a protective floor finish, if desired. Some sealants come with the finish built in, but if yours does not, apply finish for added protection and shine. Apply the finish in the same manner as the sealant and allow it to dry for about four hours before walking on it.