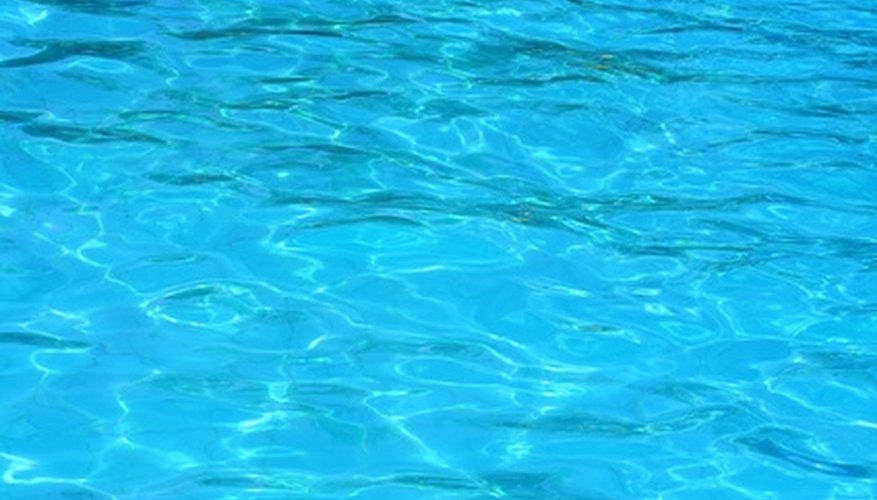 Choose a convenient location that is in line with the pool skimmer, has access to an electrical outlet and is level.
Dig a 1-foot-deep trench starting just below the pool inlet to the chosen location of the pool pump and filter. The PVC pipes to and from the pool will lie in this trench.
Glue pipes and fittings together. The pool inlet port and the outlet port on the skimmer are threaded and will need a threaded adapter fitting for each. Brush a liberal amount of the pipe thread compound onto the threads of both ports. Screw the threaded adapter fitting onto the threads and tighten securely by hand. Repeat for the other port.
Measure, cut and glue a 5-inch length of pipe to the slip side of the threaded adapter. Always apply the PVC primer to the outside of the pipe and the inside of the fitting to be glued. Allow the primer to work for at least 30 seconds before applying the PVC glue to the pipe and fitting. Quickly push the pipe into the fitting and rotate the pipe a quarter turn within the fitting to complete the gluing process. Repeat for other adapter.
Glue a 90 degree elbow onto each pipe coming from the ports and aim the open end of the fitting to the trench. On two separate lengths of pipe, glue 90 degree elbows onto one end of each. Lay these two pipes in the trench with the open end of the elbow directly below and facing a port elbow. Measure, cut and glue a pipe to connect the port elbow to the trench pipe elbow. When gluing this pipe, prime and apply glue to both ends of the pipe and both fittings to be joined. Slip the pipe into both fittings and then rotate a quarter turn. Repeat for the other port and trench pipe.
Complete the pipes running in the trench to the pump and filter area by gluing pipes together using slip couplings. Glue a 90 degree elbow onto each pipe end and aim the open end up. Determine which pipe goes to the skimmer and measure, cut and glue a pipe to the height filter connection. Measure, cut and glue a pipe to the height of the pump outlet port onto the other pipe.
Back fill trench and pack dirt in place. Level the filter and pump area. Follow the manufacturer's specifications for completing installation of the pump and filter.