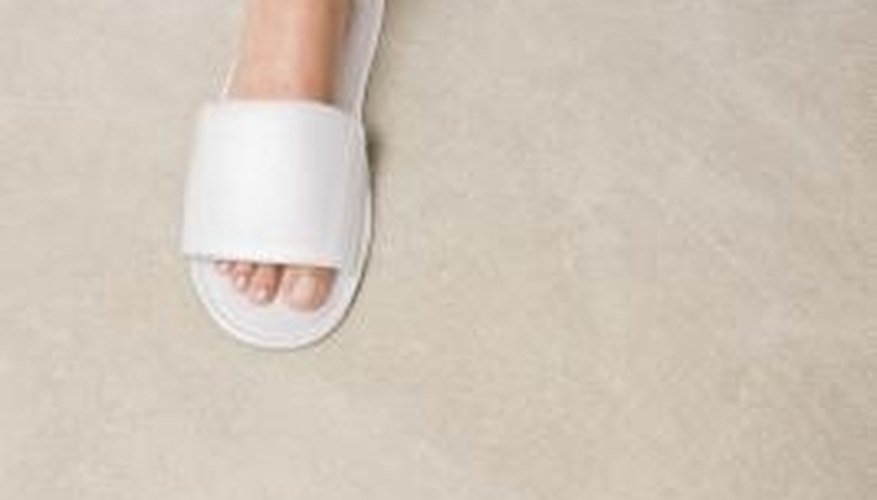 Wear a dust mask and eye goggles to protect yourself from flying dust and debris. Sweep the concrete clean of debris, dirt and dust with a broom.
Measure 1/4-inch outward from the wall where you will begin the tack strip installation, using a tape measure. Mark the floor every 2 feet with a black marker, keeping the 1/4-inch space from the wall.
Lay the carpet tack strip on the floor, making sure the tack strips line up with the marked locations to keep the 1/4-inch space along the wall. Make sure that the bottom of the carpet tack strip is flat on the concrete.
Hold the tack strip in place and outline the entire strip with a pencil, using your free hand. Remove the carpet tack strip from its placement and set it aside so you are left with the pencil outline of the tack strip.
Mark inside the tack strip outline --- in the center --- every 5 to 6 inches, using the pencil. Attach a 1/4-inch diamond drill bit to a power drill. Place the tip of the drill bit on the first mark within the tack strip outline, and drill a 1-inch hole. Continue to drill 1-inch holes on each marked location within the outline, using the power drill.
Remove as much concrete dust from the holes as you can by gently blowing into each hole.
Insert plastic masonry anchors into the 1-inch holes. Tap the plastic anchors gently with a hammer until the tops of the anchors are level with the concrete.
Place the tack strip back over the outline with the teeth facing the wall. Hammer a nail into each anchor location, using force to drive the nails into each anchor.
Repeat this entire process around the perimeter of the space for each additional carpet tack strip you will need.