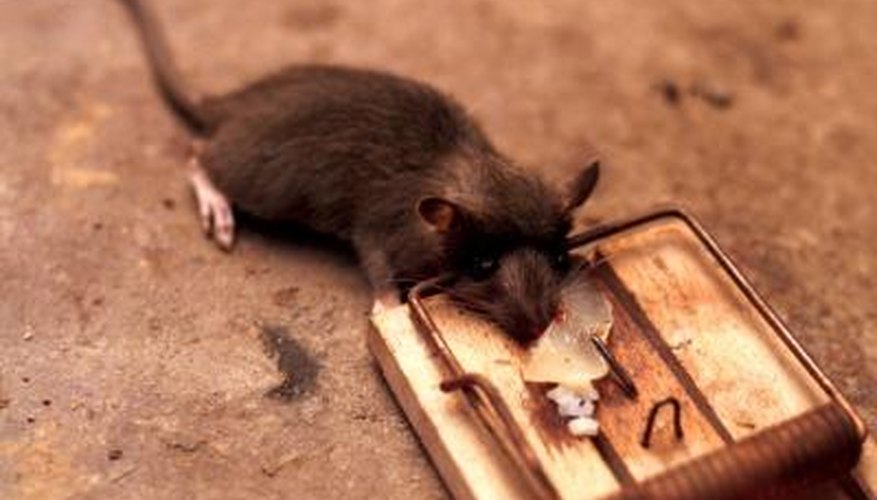 Step 1
Locate the track that the rat is using to access food in your home. Be familiar with the areas that your rat uses regularly to get around and where it is finding food. Rats habitually navigate the same trails between its home base and known safe food sources. They like to remain concealed behind walls, appliances or furniture and even inside cabinets as much as possibly while traveling.
Step 2
Clean the mess that the rat left behind on its most recent foray. Save the remains of the package of cookies or cereal on which the rodent snacked. You'll be using it as bait, so put in a plastic bag and set it aside. The rat now knows that the food is safe and will be back for more. Remove other easily accessible, chewable food boxes and packages to a safer place, leaving the rat no alternative but to eat only what you leave for it when it returns.
Step 3
Pour about a teaspoon of the bait food in the same spot where you discovered the chewed up food. Put a little dab of peanut butter on a piece of it for the rat to sample and approve a few hours later. Rats are naturally wary and afraid of new or unfamiliar objects, including food. You want the rat to be attracted to the familiar food, and encourage it to try the new one.
Step 4
Remove the wooden rat snap trap from the packaging the following day and save the instructions. Smear about ¼ tsp. of peanut butter on the trigger. Press a large pinch of the familiar bait into the peanut butter, which acts as glue so that the bait doesn't fall off the trigger when the rat's movements jostle it around.
Step 5
Place the baited but unset trap perpendicular to and against the wall in the same spot you've been using. Position the trap with the trigger end touching the wall. This ensures that the rat can't inadvertently travel between the device and the solid structure without snapping the trap.
Step 6
Put fresh peanut butter on the trap's trigger the next day. Stick a pinch of bait to the peanut butter. Set the trap as per the packaging instructions. Place it back in its spot against the wall perpendicular to it. The rodent is now comfortable with the bait food as well as with the wooden trap and will fearlessly attempt to eat the snack. The trap's mechanism fires when the rat touches the trigger.
Step 7
Pull on a pair of work gloves. Pick the trap up by its wood base and seal it with the contents in a plastic bag. Dispose of it in the trash.