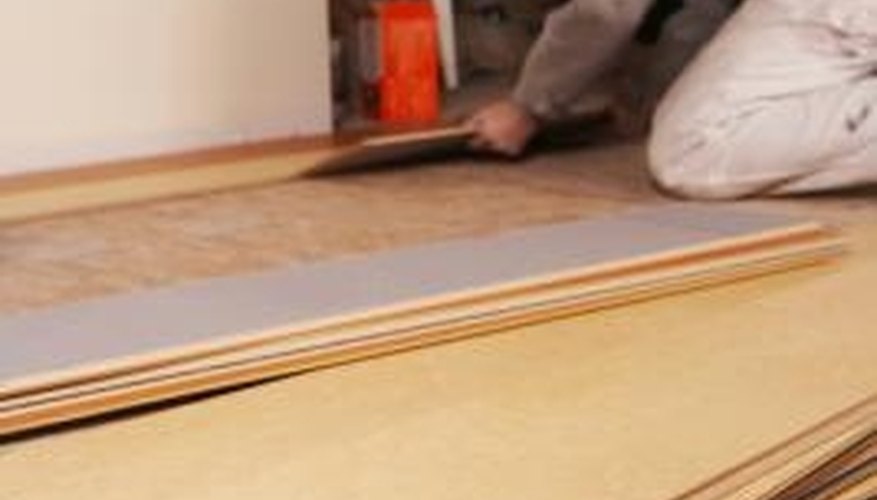 Install dimensional boards, made of treated lumber, directly on the concrete floor. Each board should span the entire length of the floor, and you should space the boards 16 inches apart.
Insert concrete screws through the boards and into the concrete floor to hold them in place, using a hammer drill.
Draw lines on your walls directly above the middle of every base floorboard. You'll use these lines later when you're putting down the wood flooring planks and the subfloor.
Apply subfloor adhesive in a thick line down the middle of each base floorboard before putting the subfloor panels on top. The adhesive helps hold the panels, and it will reduce squeaking when you walk on the floor later.
Snug the subfloor panels together, positioning them perpendicular to the base floorboards. Because you installed the base floorboards on 16-inch centers, your subfloor panels will extend from the middle of one board to the middle of another board. If you have to cut a subfloor panel, make sure it will reach to the middle of a board as well.
Attach the subfloor to the base floorboards with 1-¼-inch screws. Insert the screws until the head of the screw is just barely beneath the level of the subfloor.
Apply a layer of construction felt paper on top of the subfloor and attach it evenly with a construction staple, approximately every 2 feet.
Pop chalk lines on the felt paper, directly above the base floorboards. You can't see the boards anymore, but you can still see the lines you drew on the wall above them. Use these lines as guides.
Start in the corner of the room and lay the first piece of wood flooring perpendicular to the direction of the base floorboards. This will be in the same direction that you laid the subfloor panels.
Insert nails or screws, as directed by the flooring manufacturer, through the planks and into the base floorboards that lie beneath the subfloor. Depending upon the type of planks you're laying, you will either insert the nails directly on the top of the planks, or at an angle into the tongue of tongue-and-groove flooring.
Install the next plank in the row the same way and continue until you reach the end of the wall. Here, it is likely that you'll have to cut the last plank to fit into the space. Measure, cut and save the piece you cut off to start the next row of planks.
Repeat the process until you've nailed each plank in place. You may finish the floor by adding baseboard around the edges.