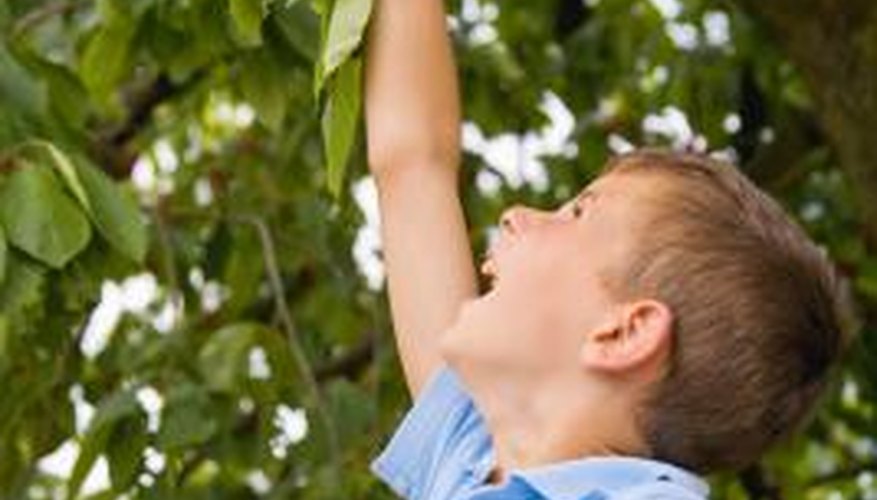 Step 1
Remove broken limbs and branches. Cut the branches at the collar instead of flush with the tree. The collar is a small lump where the branch meets the main trunk. Cut at a slight angle from the top of the branch down toward the trunk. Don't leave a stub.
Step 2
Inspect the cherry tree for dead wood. The outer bark will appear brown or waterlogged. A sample cut reveals brown, dry inner tissue instead of healthy green wood. Prune out all dead wood, using pruning shears, loppers or a pruning saw.
Step 3
Cut off any sun scald patches, using a a sharp knife, until healthy new bark is revealed. Cut the bark to smooth it with the surrounding area. Sun scald occurs when bright sunlight bouncing off a field of snow warms a tree during the day, while night-time temperatures cause the tree to freeze rapidly. The bark may split or appear dried and shrunken. Because cherry trees have thin bark, they are quite susceptible to sun scald, especially when they are young.
Step 4
Provide the cherry tree with at least 1 inch of water weekly during the growing season if rain isn't adequate. Extra water helps the tree recover from the trauma of freezing temperatures.
Step 5
Manage pests and diseases. Cracks in the bark and damage to the limbs make the cherry tree more vulnerable to pest and disease problems. Spray the tree with a dormant oil spray in late winter, per label instructions.