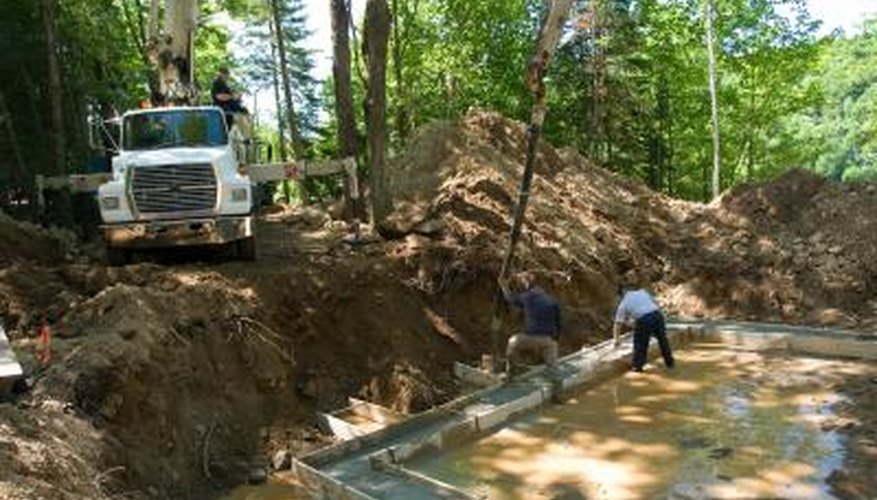 Step 1
Measure and mark out the foundation area for the slab. Place a row of lawn flags surrounding the perimeter to mark the area.
Step 2
Determine the depth of the hole necessary for your slab. The depth depends on the use for the slab, as well as the soil conditions in your area. Consult with your local building inspector to find out the local requirements for slab height.
Step 3
Dig the foundation to the required depth using a shovel within the perimeter marked by the lawn flags. Add 2 to 3 inches in depth for the placement of drainage material on the bottom of the excavation. Slope the base of the hole away from any structures at a rate of 1 inch per 8 feet of slab length.
Step 4
Compact the floor of the hole with a plate compactor to prevent shifting of the soil beneath the poured slab. Compact the soil beginning in a corner of the excavation, running the compactor across the length of the hole in rows that overlap about half the width of the compactor base.
Step 5
Build a form to hold the slab in place after pouring as it sets. Use a strong steady material for the form such as wood, rubber or plastic. Cut the form so that it rises from the base of the hole along the walls at the hole's side to the lip of the excavation. Place the form against the wall of the site and then plant a series of wooden stakes around the perimeter of the form, nailing the form body to the planted stakes.
Step 6
Fill the base of the excavation with gravel to serve as a drainage layer, preventing water from collecting beneath the slab. A gravel layer of 2 to 3 inches compacted with the plate compactor should be sufficient.