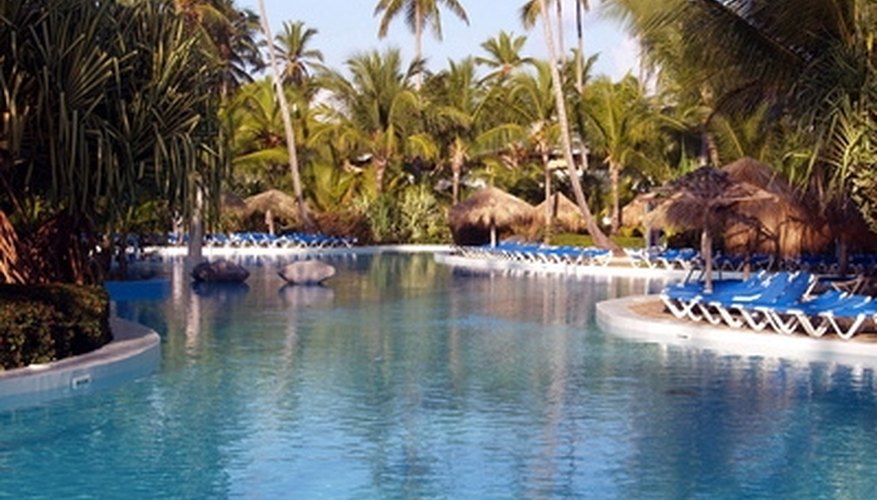 Remove the back cover of the motor and look for a voltage selection tab that can be positioned according to the desired voltage: 110-volts or 220-volts. It is best to select 220-volts if the motor is a dual voltage design. The larger voltage will run cooler, use less amperage and the motor will last longer. It will not save on overall electricity use. The advantage is efficiency and a longer motor life.
Turn off the power. Go directly to main fuse panel and shut off the circuit-breakers. Use a voltmeter to verify the power is off when disconnecting the wiring from the old pump. If new service is required, follow local electrical code and run 10-3 gauge Romex wire to the pump area from the fuse box. This will have to be enclosed in approved conduit rated for outdoor use. New circuit-breakers may need to be installed in the breaker panel.
Install a new timer, if needed, next to the new pump. Follow the manufacturer's directions for installation and setting the run time. Install a black wire coming from the fuse panel to a buss-bar inside the timer. The black wire from the pump will also be installed on the same bar. Follow the same procedure for the white wires by installing them on a shared buss-bar in the timer. Connect the green wires to the ground.
Connect the pump wires coming from the timer. They must be enclosed in conduit. There will be clearly marked locations where the black and white wire feed the pump. Connect the remaining green wire to the ground post inside the motor. Double check all connections by giving them a tug to make sure they are secure and tight. Install the back cover.
Install a bare copper wire on the lug connector that is located on the pump motor body. This bare copper wire should go directly into the earth. Follow local codes regarding earth grounding procedures. Install the inlet and outlet pipes to circulate the pool water.
Turn the pool timer off with the on-off lever in the timer housing. This lever is mechanically tripped by the setting pins on the timer clock face. Restore power at the fuse panel. Prime the pool pump with water in the filter basket area, secure the service lid and turn the pump timer on. The pump will come on. The pump should circulate water through the filter and into the pool. Turn the timer trip-lever off, set the timer to automatically cycle the pump on and off, then turn the trip-lever on.