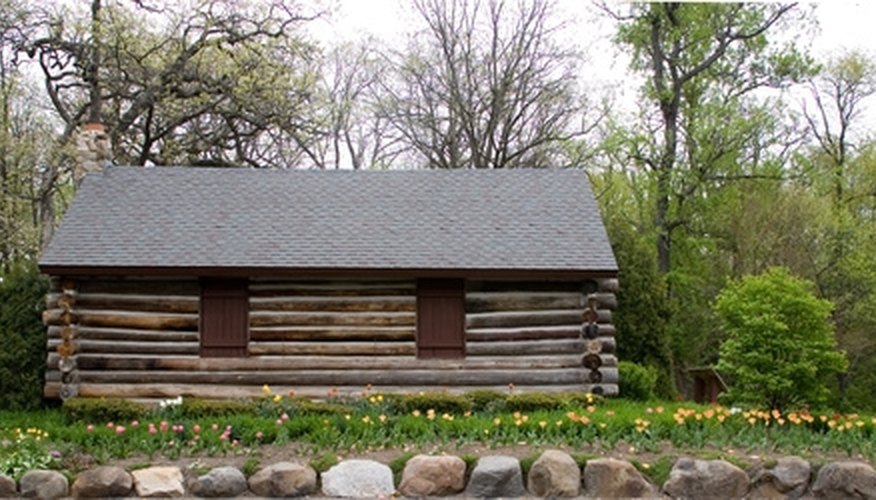 Determine the dimensions of your log cabin based on your floor plan. Traditional cabins are rectangular or square, and a small cabin is at least 20-by-30-feet. Level pieces of land on a slightly elevated piece of property are ideal. A concrete slab foundation works well on flat terrain.
Clear the perimeter, including brush and rocks. Outline the building with string and marker pegs.
Dig a trench about 12 inches deep and 12 inches wider than the marked perimeter. Add an underlying layer of compacted gravel under the concrete foundation.
Construct a mold for the log cabin base using 1-inch timber planks. The width should equal the depth of the concrete, which should be at least 6 inches. Cut two planks to a length equal to the shorter sides of the cabin (if rectangular and not square), minus 3/4 inch, and two planks for the longer sides, adding 2 inches.
Use the electric drill to screw together the planks, forming a box.
Mix your concrete with water using your dry cement mix and cement mixer. You can calculate the amount with the following formula: (Inches) Depth multiplied by short length multiplied by long length multiplied by 4/3 divided by 15,552 cubic yards.
Pour the concrete into the mold, compacting the mix as much as possible. The concrete will take several days to dry, and will form the border for the concrete slab floor. Unscrew the molding timbers and remove to reveal your foundation border.