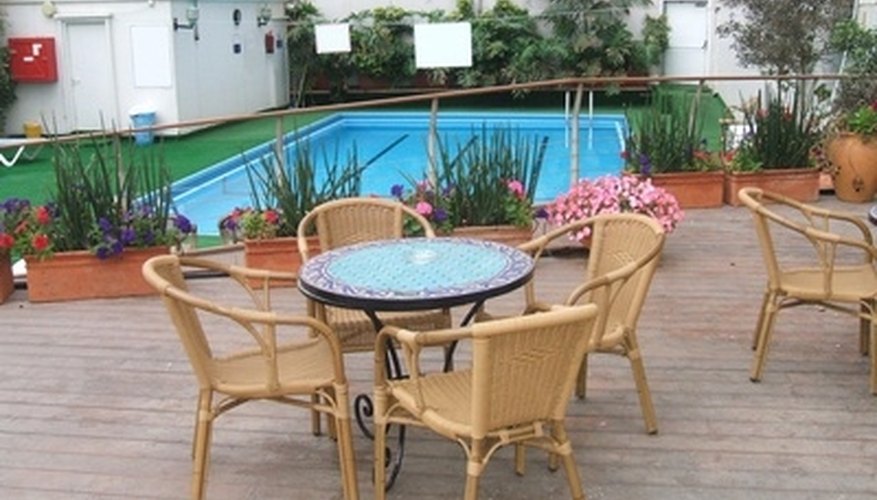 Choose a location for your raised patio. Mark outer walls of the patio using yard stakes and plastic ribbon. Use this marking to guide you in excavating 6 inches deep and 12 inches wide all around the staked off area.
Use the level to get the bottom of the trench as close to level as possible. You may have to remove more soil in some areas or add small amounts of soil to others to produce a level surface.
Compact the soil in the trench so you have a firm foundation to build the retaining, outer walls of your patio. Pass the mechanical tamper over the bottom of the trench at least three times or until the dirt stops giving under the tamper.
Build up the retaining walls of the patio by stacking patio blocks to the desired height of the patio. Set the first block into place in a corner of the patio space and set the next block as close as possible to the end of the first block. Complete the first row, stagger the blocks and continue placing the blocks as close together as possible.
Cut the blocks to fit into corners and at the end of rows. Use a striker, grinder or cutting blade approved for the material of the patio blocks to cut the blocks into the necessary sizes and shapes.
Fill the area between the retaining walls half-full with coarse crushed stone. Make the area as close to level as possible and run the mechanical tamper over the stone layer until it does not shift under the machine.
Apply a layer of finer crushed stone over the first stone layer. Do not let this layer extend more than 3 inches below the top of the retaining walls. Tamp this layer as well, using the same methods from Step 6.
Place a 1-inch layer of sand over the stone layers. Compact and move the sand layer to create a firm and level surface from the sand.
Install the patio pavers to make up the top surface of the raised patio. Start by placing the first paver into a corner and work outward in all directions, placing each paver as close as possible to each surrounding paver. Cut pavers to size and shape as necessary.
Dump a small load of masonry sand onto the top surface of the raised patio. Use a broom to sweep the sand into the small cracks between the pavers. Remove excess sand from the patio as necessary.