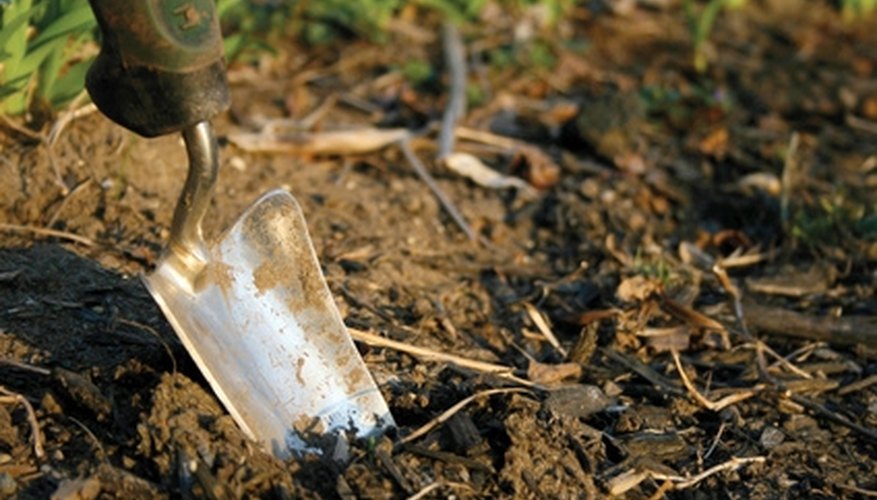 Select a fertilizer that has an N-P-K number in similar proportions to the recommended nutrients after your soil test. For example, if the recommendation calls for twice as much nitrogen as phosphorus and potassium, select a fertilizer marked 8-4-4, 12-6-5 or something similar. The proportions don't need to be exact.
Divide the number of each nutrient on the label by 100 to express the number as a percent. For example, a phosphorus value of 5 would be .05.
Divide the recommended pounds of each nutrient by the percentage of that nutrient in the fertilizer. The result is the pounds of fertilizer you'd need to apply to add exactly that amount of that nutrient. For example, if the soil test recommends 20 pounds of phosphorus per acre, you'd divide 20 by .05 to get a result of 400 pounds of fertilizer per acre.
Add the three results together and divide by three to calculate the amount of fertilizer to apply to the area specified in the soil test. This averages out any differences between the label and the recommended proportions of fertilizer.
Divide the area of your field, lawn or garden by the area given in the soil test. Multiply the result by the pounds of fertilizer from the previous step. The result is the number of pounds to apply to your field, lawn or garden. For example, if your garden is 1,500 square feet and the recommendation is per 1,000 square feet, divide 1,500 by 1,000 to get 1.5 and multiply the pounds of fertilizer by 1.5.