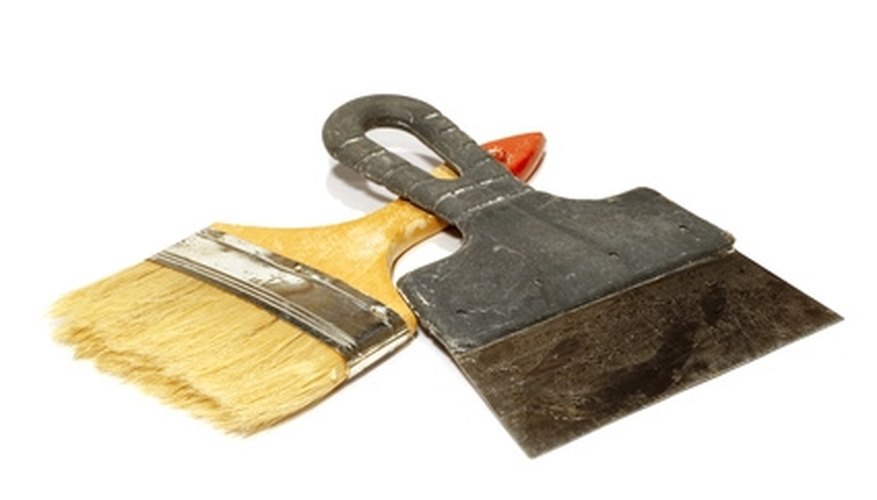 Sweep and vacuum the area. Use a wire brush if you have old paint on the floor or walls to remove as much of the old paint as you can. Vacuum any dust, dirt and paint chips that may end up in the final paint job. Ensure the area is well-ventilated either with open windows or high-powered fans.
Clean your surfaces. Mix trisodium phosphate powder (TSP) and water in a bucket according to manufacturer's directions. TSP removes grease and prevents stains from seeping through your final paint job. Use TSP on all surfaces or just on the floor. Use a 3:1 (water:bleach) solution and a scrub brush to remove mildew stains. Do not use TSP and bleach together.
Seal the surfaces. Sealer is a clear liquid that's easy to work with. Seal the walls and the floor at the same time, starting with the walls. Use a high quality masonry and concrete sealer to prevent moisture from damaging your paint job.
Prime your walls and floor. Tint primer to your chosen paint color or apply it white. Most masonry paint has a primer built-in, but for longer lasting results it's a good idea to apply a primer coat. Primer helps paint adhere to concrete and masonry, and it provides a good base coat for your color.
Apply quality latex or masonry paint. Apply at least two thin-to-medium coats of paint whether you're painting walls or floor. A single thick coat of paint can dry tacky or not cure properly, leaving you with a soft coat of paint that can be easily damaged. Apply a topcoat of sealer to all surfaces once the paint is completely cured if moisture or mildew is a problem.