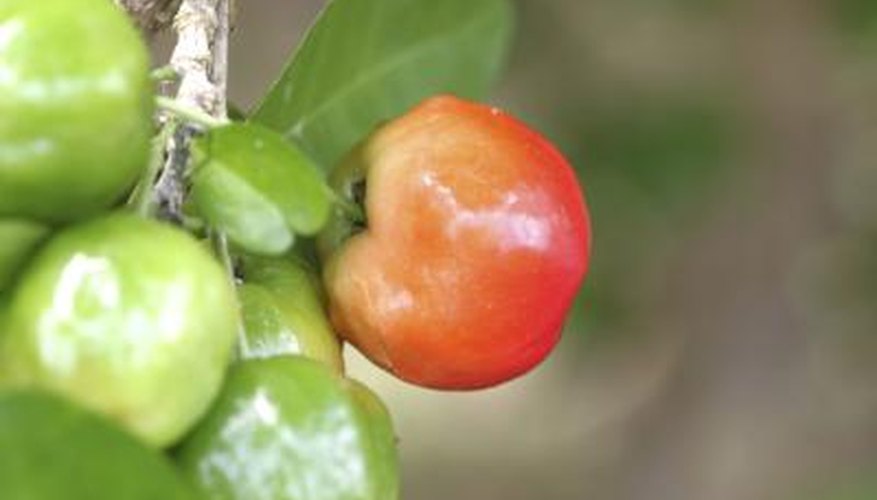 Step 1
Put on a long-sleeved shirt, long pants and gloves, and dig a hole twice as wide and the same depth as the acerola root ball with a spade. Dig the hole in a full-sun or partial-shade site in any well-drained soil except acid soil. Acerola produces the most fruit in full-sun sites.
Step 2
Place the acerola in the hole so that the top of the root ball is level with the soil surface, and fill in the gaps around it with dug soil. Firm the soil gently, and water the acerola thoroughly. Apply water regularly throughout the first growing season so that the ground is constantly moist but never sodden.
Step 3
Feed your acerola with a 24-8-16 fertilizer diluted at a rate of 1 tablespoon per gallon of water, and spray the foliage with the fertilizer solution every two weeks while the shrub is actively growing, or apply according to the manufacturer's instructions.
Step 4
Sterilize pruning shears by wiping the blades with rubbing alcohol, and prune acerola in winter or early spring, removing dead, diseased and crossing stems where they join the rest of the shrub. Prune acerola to control its size by removing stems at the desired length just above a leaf node. Sterilize pruning shears again after use.
Step 5
Examine acerola leaves and stems weekly for signs of aphids, whitefly or scale. Aphids and whitefly are tiny insects that cluster on shoot tips and the undersides of leaves, and scale look like tiny shells on leaves and stems. Spray heavy infestations with a ready-to-use insecticidal soap spray during the morning or evening, and repeat every two weeks as needed.