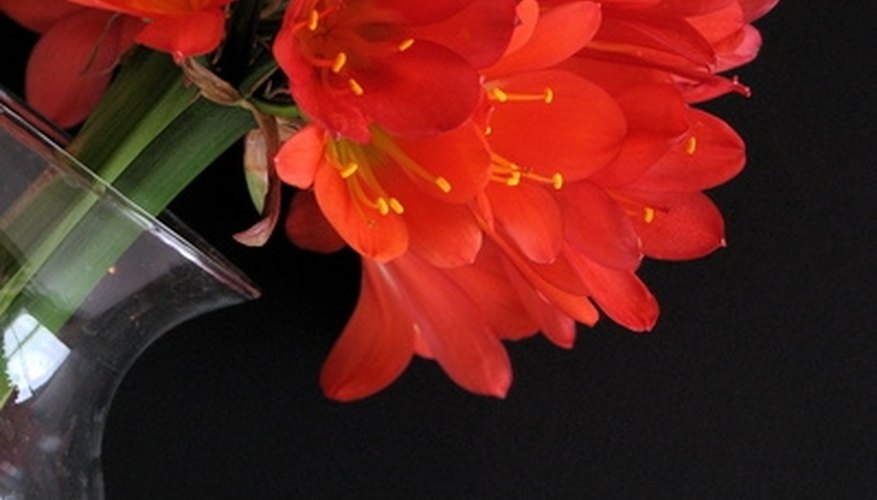 Make sure the vase is clean before you add flowers. Fill the vase with water and add a couple of drops of bleach. Wash the vase with the bleach-diluted water and be sure to rinse it out well.
Remove all of the foliage from the part of the stem that will be submerged in the water. Foliage covered by water can produce bacteria, which can shorten the life of the flowers.
Cut the stems of each flower at an angle. If the flowers have been sitting out of water for awhile and have begun drooping, cut the stems under water to avoid further trauma to the flower. Fill your sink or a large bowl with tepid water. Use a sharp knife or clippers to cut the stems while holding the stems under the water.
Put the small package of flower food, if provided, into the vase. The flower food contains nutrients that help the flowers stay healthy and maintain their color. Some blends may also contain additives that prevent the growth of bacteria in the water. You can make your own flower food by adding 1 tsp. of sugar to a pint of water. Add 1 tsp. of bleach to combat bacteria growth.
Arrange the flowers in the vase. Then fill the vase with tepid--never cold--water. Cold water can "shock" flowers and shorten their lives. Check again that no foliage is submerged in the water.
Place your vase of flowers out of the sun and away from sunny windows. Also, keep the arrangement away from heating or air conditioning vents. Change the water in the vase every five days, and be sure to use only tepid water. Prune out any dead flowers.