Determine the Correct Leaf-Shape Category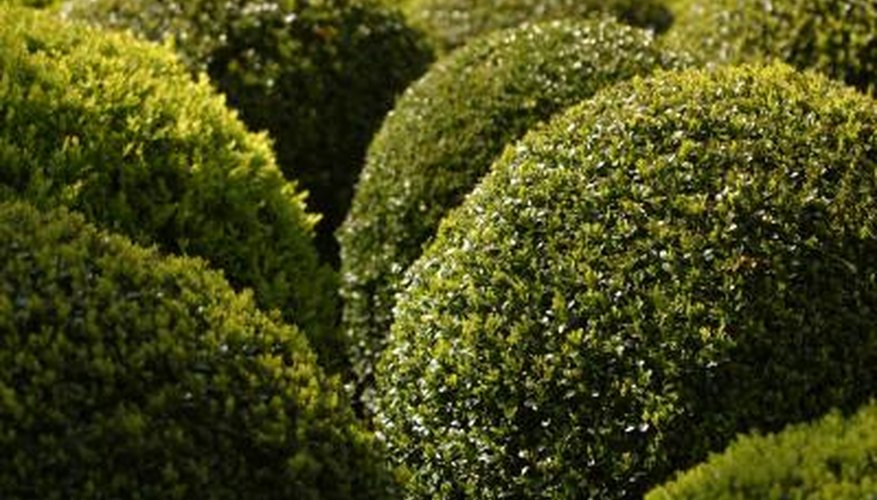 Step 1
Identify awl-shaped evergreen leaves by their long, thin formation. Needle- and scale-shaped leaves are wider than awl-shaped leaves and spread outward from the center stems.
Step 2
Look for evergreen shrub leaves with a series of needles that grow evenly from the center leaf stem. These are needle evergreen leaves.
Step 3
Identify the scale-like evergreen shrub leaves by its scales that grow outward from the center leaf stem in non-uniform lengths. Scale-like evergreen leaves have a rough triangular shape.
Identify the Evergreen Shrub Species
Step 1
Feel the foliage to identify the correct species of evergreen shrub with awl-like leaves. If the foliage is sharp to the touch, it's a juniper. If the foliage is soft and flexible, the shrub is a Siberian cypress.
Step 2
Study the needles' length, coloring and growth habit to identify needle-leaf evergreen shrub species. If the needles are flat, ¾- to 1-inch long and completely green, the shrub is a yew. If the needle has two white bands down the length of its underside, is at most ½-inch long and is connected to the branch by a small stem, it's a hemlock (if no stem, it's a fir). Identify spruces by their square needles and pines by needles that grow in bundles of two, three or five.
Step 3
Look at the size and specific shape of scale-like leaves to pinpoint the evergreen shrub species. Arborvitae shrubs have tiny and flat fan-shaped leaves that measure only 1/16 to 1/8 inch in size. False cypress species have less flattened and larger scale-like leaves.