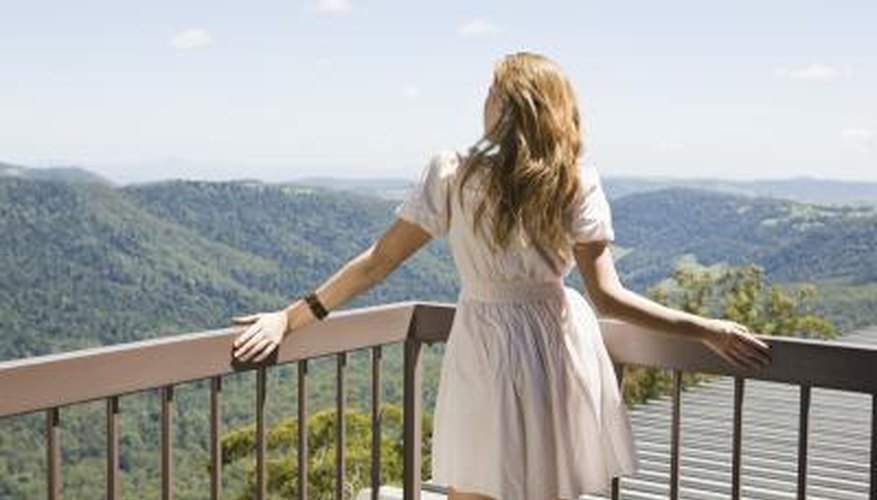 Step 1
Consult your project plans for the exact location where your railing needs to be installed. You are specifically looking for the measurement from the edge of your concrete slab to the middle of the width of the railing (the dimension provided on the plan will give you this). Use a tape measure and pencil to mark this measurement in several places on your slab but place the marks no more than 20 feet apart on larger slabs. Snap a line through your marks with a chalkline.
Step 2
Measure from the center of the beginning support post to the center of the end support post on one of your railing sections. Using this measurement, place a mark on the line you snapped for the center of your railings that now shows where the center of each support post will be.
Step 3
Measure the bottom of the anchor plates on your support posts and determine how far from the center point the bolt holes are. Use this measurement to mark where the bolt holes will need to be drilled in the concrete, relative to the support post center points you marked in the previous step.
Step 4
Drill each bolt hole to match the depth of your anchor bolt sleeves. Make sure that the anchor bolts and sleeves are the correct type and size for your railing. Look in the front of your project plans under the section marked "General Instructions" for the specifications.
Step 5
Tap an anchor bolt sleeve into each hole using a rubber mallet. You want the sleeve to be flush with the top of your concrete. Do not use a regular hammer or you risk damaging the sleeve, and the bolt will no longer fit.
Step 6
Stand your railing up, section by section, lining up the holes in the anchor plates with the holes you drilled. Install the railing into the concrete by threading a bolt through the plate and into the sleeve. Tighten the bolt using a wrench.