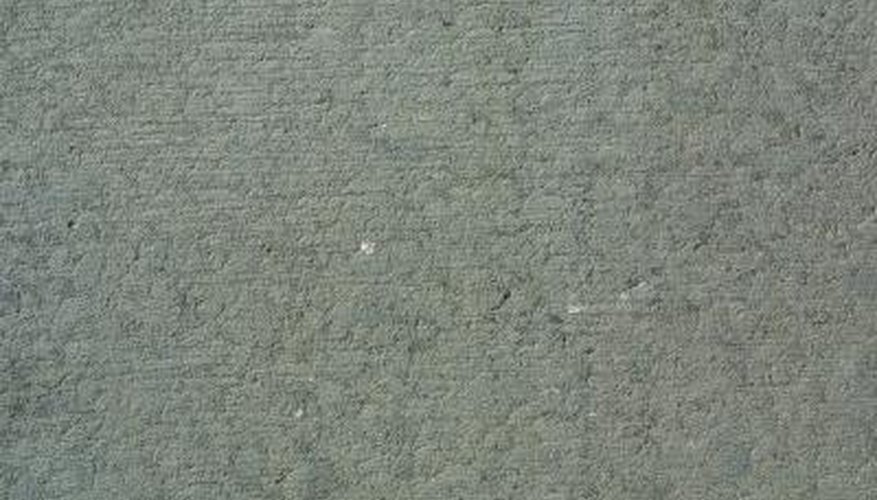 Step 1
Assemble the concrete table system that suits the size ceiling pour you have. A table system is a structural set of supports designed to hold the bottom wood forms of your pour in place and to withstand the weight of the concrete as it is poured and sets. Follow the instructions included with your table system and take advantage of the fact that most companies that design them will also "rent" you a professional to teach you how to use them.
Step 2
Load the 4x4s into the top support holders on your table system. Each leg of the table has a metal channel at the top that will hold the 4x4 in position. Follow the design included with your table system to place your 4x4s with the correct spacing needed. Nail the 4x4s together where they meet and make any cuts necessary with your circular saw to fit the wood to the tables.
Step 3
Fit your 3/4- inch thick Masonite on top of the 4x4s, so they cover the entire pour area plus at least 1 foot past the end of the ceiling pour. You will need this extra room to brace the edge form. Nail each board into place on the 4x4s.
Step 4
Erect your edge forms. Stand a 2x8 on its edge where the end of your ceiling will be. Place a 2x4 flat behind it, and nail the 2x4 to the Masonite and then nail the bottom of the 2x8 to the 2x4. Cut a series of small kickers (angled pieces of 2x4 that will reach at a 45-degree angle from the 2x8 to the Masonite on the outside of the pour). Nail these in place every 4 feet to brace the edge form. Do this along the entire edge of the pour.
Step 5
Install your ceiling re-enforcement as detailed in your project plans. This may be a rebar mat or post-tension cables. Place them according to the specifications detailed.
Step 6
Order a concrete pump and the concrete for your pour. Begin pouring the concrete at the farthest point away from the pump, and work toward it. This way you will neither have to move the pump during the pour nor will you be dragging the pump hoses through your concrete. Vibrate and finish your ceiling pour as you would any other type of slab.