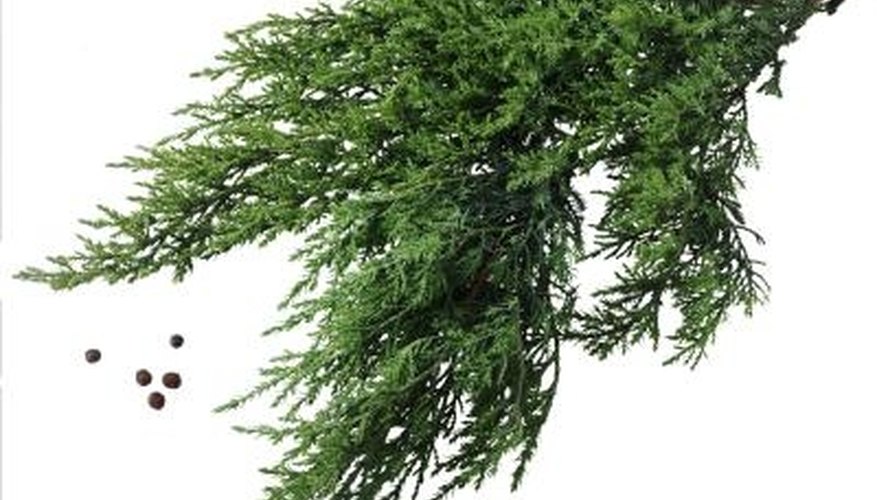 Select only healthy evergreen shrubs to transplant. Smaller shrubs transplant more successfully than large ones do and, younger ones, more successfully than older ones do. Those that are overgrown or that have diseased limbs or yellowed leaves are generally not worth transplanting. Unless the plant has sentimental or historical value, start with a new specimen or take a cutting.
Root prune the shrub at least one season in advance to reduce transplant shock. Measure the trunk a few inches from the ground to determine the diameter. For every 1/2 inch of trunk diameter, measure 12 inches out from the shrub. Sink a sharp spade into the soil in a circle at the established distance all the way around the tree. For example, to root prune a young shrub with a trunk measuring 1 inch in diameter, make a circle in the soil with the spade 24 inches from the base of the shrub. Root pruning severs the roots and encourages them to grow in a compact form. More of the roots remain with the plant when it is dug up, reducing shock.
Water the soil two to three days prior to transplanting a shrub so the roots are moist. Do not allow the roots to dry out at any time during the transplanting process.
Contact local utility companies to mark utility lines before digging any holes deeper than 12 inches. Dig a trench in a circle around the evergreen shrub, 3 to 4 feet from the trunk. For large shrubs, dig at least 15 to 24 inches into the earth to get under the roots. Smaller shrubs require less digging. Slowly work the spade under the roots, cutting them free with pruning shears as necessary.
Lift the shrub onto a piece of moistened burlap, wrapping its roots up securely if you plan to transport it. Store it in a shaded, protected area and water again if necessary to keep the roots moist. Transplant it as soon as possible.
Dig a hole for the evergreen shrub that is at least two to three times the width of the root ball. Water the hole thoroughly and allow it to drain. Set the shrub in the hole so it sits at the same level in the soil as it previously grew. Fill the hole halfway with soil and water again. Completely fill the hole, tamping it down gently with your foot to remove any air pockets.
Water as needed over the next few weeks to keep the soil evenly moist. Once the evergreen shrub has established new roots and is producing new growth, it needs less frequent watering.