Site Selection and Soil Preparation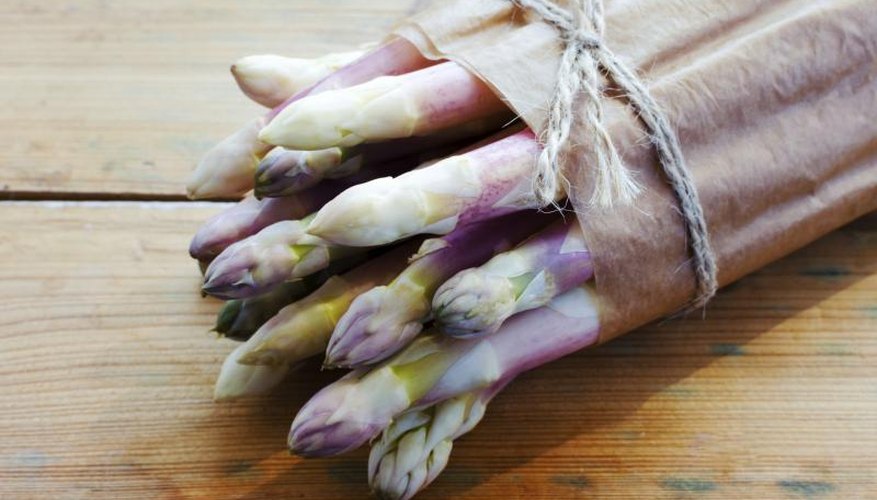 Plant asparagus in a well-draining area in full sun. Full sun is is six or more hours of direct sun per day.
Plant asparagus crowns in the spring two weeks before the last frost. Clear the garden bed of weeds and roots, removing any twigs and rocks as you go, then spread 2 to 4 inches of compost evenly over the entire bed.
Using a garden fork or a root-tiller, mix the soil with the compost 12 to 15 inches deep. Asparagus grows well in soil with a pH between 5.8 and 6.5.
Trenching and Crown Setting
Dig a trench 1 foot deep and 1 foot wide the length of the garden bed, and refill the bottom 4 to 6 inches of the trench with a blend of equal parts topsoil and compost. Pour in the soil so it forms a peak that runs the length of the row. This leaves a trench 6 to 8 inches deep in the center.
Submerge the root portion of the asparagus crowns in lukewarm water for 20 minutes, then plant immediately.
Set the asparagus crowns on the soil-compost mix in the trench, allowing the roots to drape down the sides of the peak. Space asparagus crowns 9 to 18 inches apart. Add another 3 inches of compost-soil mix on top of the asparagus crowns.
Watering and Fertilizing
Water asparagus immediately after planting, soaking the soil to the bottom of the trench. Follow up with water through the rest of the growing season when the top 1 inch of soil dries, soaking the bed 6 inches deep each time. Deep watering encourages deep root development, resulting in strong, healthy plants.
Fertilize each spring with a balanced 10-10-10 fertilizer. Use 1/2 cup for a 25-square-foot bed. Scatter the fertilizer on the soil surface, then water the bed until it is damp 6 inches deep. Line up the spring fertilizer with one regular watering session.
Mulching and Weeding
Mulch asparagus with compost, bark mulch or seed-free hay in the spring, piling it up 2 to 4 inches deep around the developing spears. As the mulch breaks down, replenish it with new material.
Asparagus needs room to grow, especially for the first few growing seasons. Pull weeds by hand or use a hoe to gently dislodge the roots to keep the bed clear.
Give the plants two to three years to get established before harvesting.