Planting Sage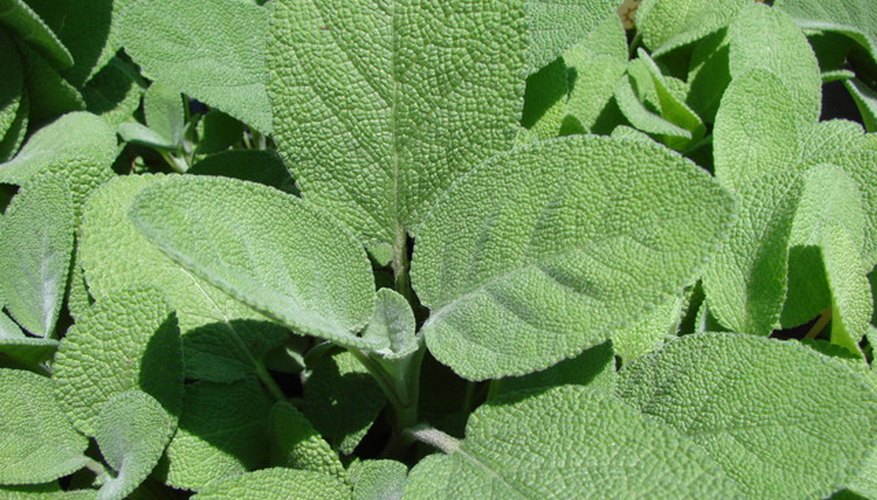 Step 1
Select a small sage plant that is bushy and uniformly green. Specialty color varieties like yellow sage and tri-color sage will also flourish indoors.
Step 2
Repot small plants into 4- to 6-inch pots to which you have added a layer of pebbles to the bottom for drainage.
Step 3
Fill the pot 3/4 full with a quality potting soil.
Step 4
Score any exposed, ropey roots and add the plant to the soil.
Step 5
Cover plant roots with soil to the base of the stem, firm into place and water thoroughly.
Caring for Indoor Sage Plants
Step 1
Provide sage with a minimum of six hours of bright light a day. Place the plant in a western or southern facing window for the warmest light. If you notice the plant becoming leggy, it needs more light. Moving it closer to the window may help, but the best solution to a low-light problem is supplementing natural light with plant grow lights.
Step 2
Place sage where it is out of drafts created by heating vents, open windows or exterior doors.
Step 3
Keep sage uniformly moist but never let its roots sit in water.
Step 4
Wash sage in the sink or shower once a month to keep the pebbled leaves free of dust.
Step 5
Harvest sage leaves as needed, but don't harvest more than half the plant in a season.
Step 6
Shape the plant periodically to keep it from looking uneven. Cut out woody growth as needed.