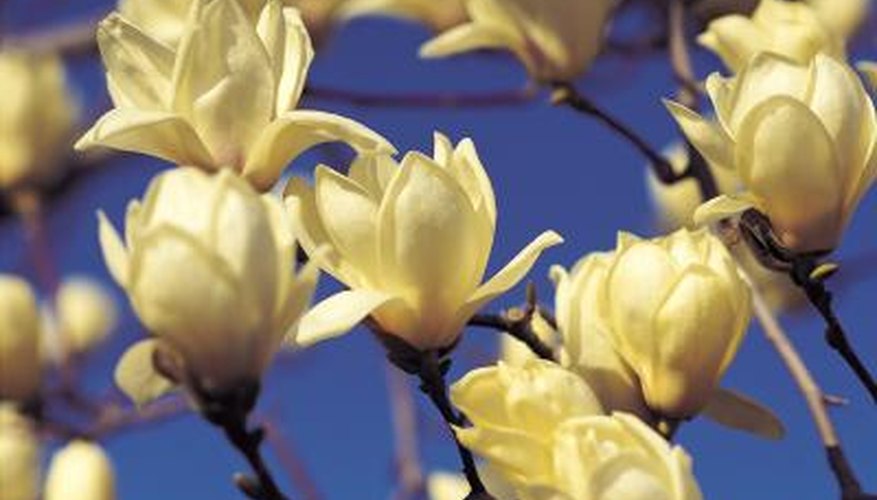 Step 1
The scions you chose should have both current and past growth on it. Choose healthy branches without wilt or fungus. Cut a 4- to 6-inch long piece. It is smart to cut a few to attempt to root since the growing process is not 100 percent guaranteed to work every time.
Step 2
Sterilize your pruning shears with one part bleach mixed with nine parts water to avoid spreading disease to your new tree.Soak the blades in the solution for five minutes. Use the cleaned, sharp shears to cut scions from the tree.
Step 3
Remove any flowers and flower buds from the scions so all of the tree's energy can route to growing new roots rather than to reproduction. Keep the scions in a cool and moist area if you are unable to transplant them immediately. Place them in a baggie with a wet paper towel and store them in the refrigerator or a cooler until you are ready to plant them.
Step 4
Prepare a 4-inch pot with a mixture of equal parts of peat and course sand. Dip the cut end of one of the scions into rooting hormone and insert it 1/3 to 1/2 of its length into the pot, making sure the buds are pointed up. Repeat this process with each scion.
Step 5
Water the cuttings as needed and, when leaves grow, mist them a few times a week. Keep the seedlings in a pot for at least a year to increase its chances of survival in the ground.