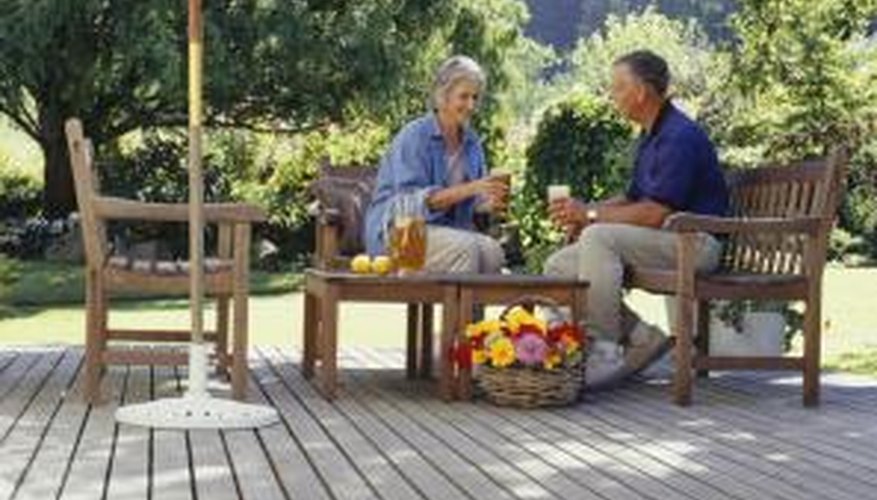 Step 1
Create a wooden frame for the footing from scrap lumber, sizing it according to local building code regulations. Dig the pier and footing hole into the ground to the proper depth with a garden spade. Pour the required depth of gravel into the bottom of the hole, to suit building regulations. Smooth out the gravel so its top is flat, and place the footing frame in the hole.
Step 2
Cut to length the section of fiber tube so it is long enough to enter 2 inches into the footing, and also 2 inches longer at the top than the level to which concrete will be poured; use a tape measure. Cut the tube with a handsaw or circular saw.
Step 3
Place the tube in position in the hole, with its base entering 2 inches into the footing's wooden frame. Make sure the tube is positioned vertically, and secure the tube in place with temporary wooden bracing.
Step 4
Mix the concrete, and fill the footing's wooden frame. Continue pouring concrete until the footing is completely filled, as well as the bottom 2 feet of the fiber tube. Pack down the concrete with a trowel or end of a wooden stud to ensure there are no air pockets. Add more concrete in the tube in 2-foot increments, packing it down with the trowel or wooden stud. Continue until the tube is filled. Smooth out the concrete on the top of the pier.
Step 5
Measure from 2 inches below the top of the tube to the bottom of the footing, and cut two pieces of No. 4 rebar to this length. Cut the rebar with a circular saw and a metal cutting blade. Push the rebar down into the concrete-filled tube by hand until it reaches the bottom of the footing. Position the rebar 2 inches from the side of the tube, on opposite sides. Push an anchor bolt into the cement in the center of the tube's top to act as a support for the post.