Chemically Remove Stains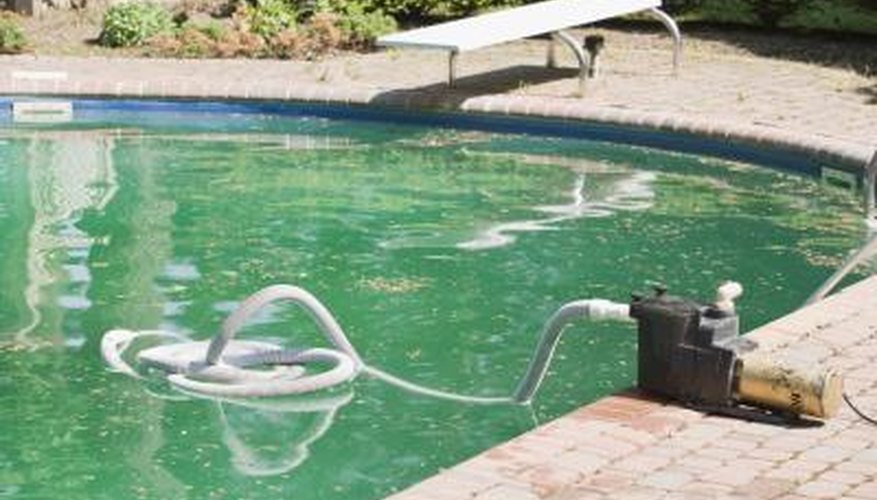 Step 1
Drain the pool. Wipe any visible algae from the tile before chemically removing the stains.
Step 2
Put on the rubber gloves, safety glasses and face mask to protect your skin and lungs before you use chemicals to clean the tiles. Muriatic acid is a corrosive acid that effectively removes stains from tile, stone and concrete surfaces.
Step 3
Dilute muriatic acid with water using a 1-to-1 ratio. Fill a bucket with a gallon of water and add a gallon of acid to the water. Pour some of the solution into a clean plastic spray bottle.
Step 4
Spray the solution directly over the hard water stains. Scrub the stains with the soft bristle scrub brush. Use a soft bristle brush to help prevent scratching the pool tile.
Step 5
Rinse the solution away with a garden hose immediately after each application. Wipe the tiles with clean cloths.
Naturally Remove Stains
Step 1
Combine 2 cups white distilled vinegar and 1/2 cup baking soda in a bucket. The combination of acetic vinegar and the base baking soda will produce a chemical reaction that causes the mixture to bubble.
Step 2
Soak a clean cloth in the mixture and rub it onto the hard water stains. Let it sit for 15 to 20 minutes.
Step 3
Gather the vinegar and baking soda solution onto a soft bristle scrub brush. Scrub the tiles with the brush to remove the stains. Use a little elbow grease, but be careful not to scratch the tiles.
Step 4
Fill a bucket with warm water and pour the water over the tiles to rinse the cleaning solution away.
Step 5
Inspect the tiles for any remaining hard water spots. Repeat the process if there are stains left on the tile. Difficult or set-in stains may require two to three applications to remove the stains completely.