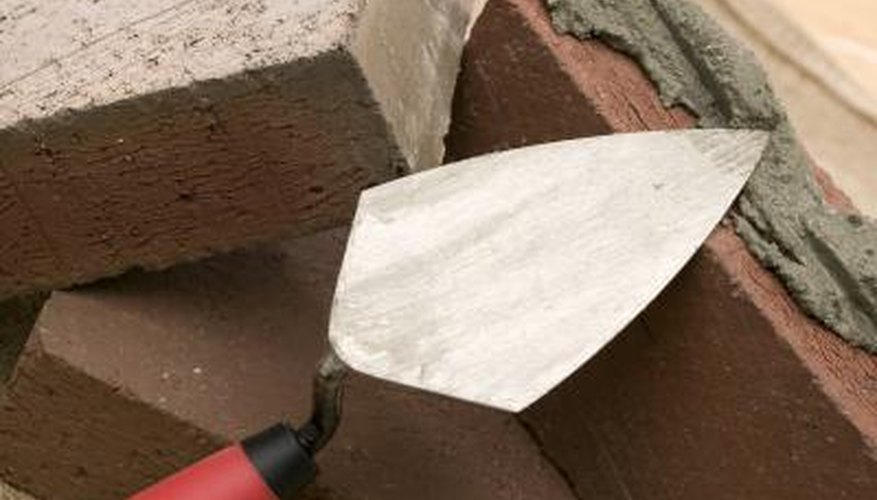 Step 1
Pour sand and portland cement onto a sheet of plywood at a ratio of 2 to 1 to make the scratch coat stucco. Mix the dry ingredients together with a shovel, before adding ¼ part hydrated lime. Once the lime is completely combined, pour 2 parts water into the mixture and stir with the shovel until the paste has a slurry texture. If the paste is crumbly, slowly add 1 part of water until it has a smoother texture.
Step 2
Combine 5 parts sand to 1 part portland cement to make the stucco that is used for the brown coat. This dry mixture is combined with ¼ part hydrated lime, before 2 to 3 parts water are added. The result is a thicker and denser stucco coat that is normally applied over the scratch coat.
Step 3
Mix sand with portland cement at a ratio of 3 to 1 to create the foundation for the finishing coat. Add ¼ parts hydrated lime and 8 to 10 parts mineral oxide, which is the coloring agent. Mix in 2 to 3 parts water and assess the color of the stucco. If a darker shade is desired, continued adding the coloring agent to the mixture, in 1 part increments, until the right hue is achieved.
Step 4
Blend portland cement with hydrated lime at a rate of 1 to 1 on a sheet of plywood, using a shovel to mix the two ingredients. This is the foundation for the Type N mixture, which also requires an additional 6 parts sand. Once the dry mixture is combined, pour in 2 to 3 parts water. At the end the mixture should have a dense buttery texture, and slide easily of the shovel.
Step 5
Create the Type S mixture by combining 1 part Portland cement with 1/2 part hydrated lime. Next, add 4 ½ parts sand to the mixture and thoroughly mix it with a shovel before adding 1 to 2 part water. The result should be a heavy, dense and slightly textured mixture.