An Ancient Fruit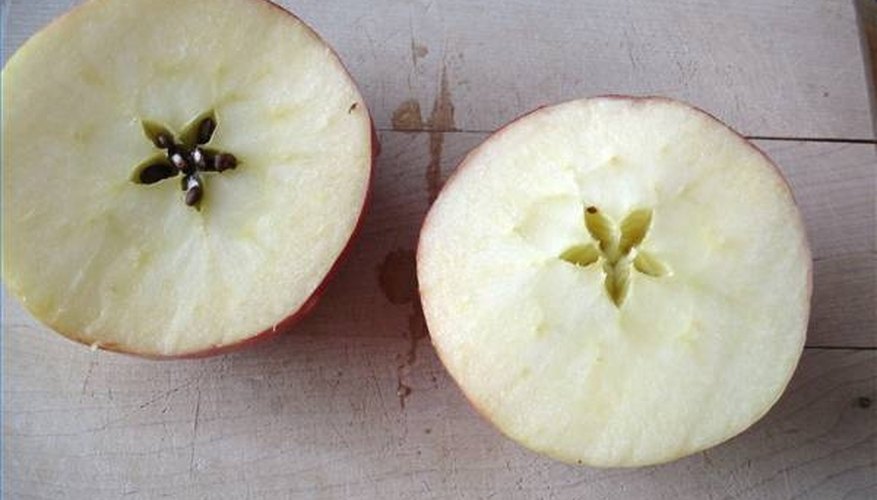 Apples are an ancient fruit that have been grown successfully since biblical times. Apples are valued for their nutritious and flavorful flesh. An American favorite, they are eaten fresh or used to make apple crisp, apple pie, apple bread or more extravagant dishes such as apple curry. They are produced by apple trees which are deciduous (they lose their leaves each fall and become dormant) and belong to the rose family. All flowering plants and trees produce a fruit, but not all are as edible or delicious as apples. There are over 7,000 varieties of apples that grow throughout the temperate regions of the world.
Pollination
Apple trees produce many small white flowers before growing their fruit; they look like small wild roses. These apple blossoms are not only pretty to look at but serve a major purpose. They bloom for 1 to 2 weeks so that they may be pollinated. Apple blossoms produce sweet-smelling nectar that attracts honey bees. These bees collect nectar from the blossoms while brushing against the pollen inside. The bees move from blossom to blossom and tree to tree collecting and distributing pollen. The process of bees carrying the pollen from one blossom to the next is called pollination.
Growth
Pollen is produced in the anther (male part of the flower), and when a flower is pollinated this means that the pistil (female part of the flower) has received the pollen grains. The pollen is received through the stigma on the pistil and then travels down the style or long tube and reaches the ovary of the flower. A pollen grain will produce two sperm cells upon reaching an ovule, and fertilization occurs. Blossoms that are successfully pollinated will grow their fruit (apples) within about 5 months. You have probably seen an apple cut in half and noticed the small, dark reddish-brown seeds. These are the result of a pollinated fruit, and each seed can potentially grow to be a whole new apple tree. The inner compartment of an apple (ovary) usually contains 5 compartments, each with 2 seeds inside, for a total of 10 seeds. If an apple has less, it can mean that the tree was not getting enough nutrients from the soil, not getting enough water, or any other number of climate-related deficiencies.