What Is a Swimming Pool Pump?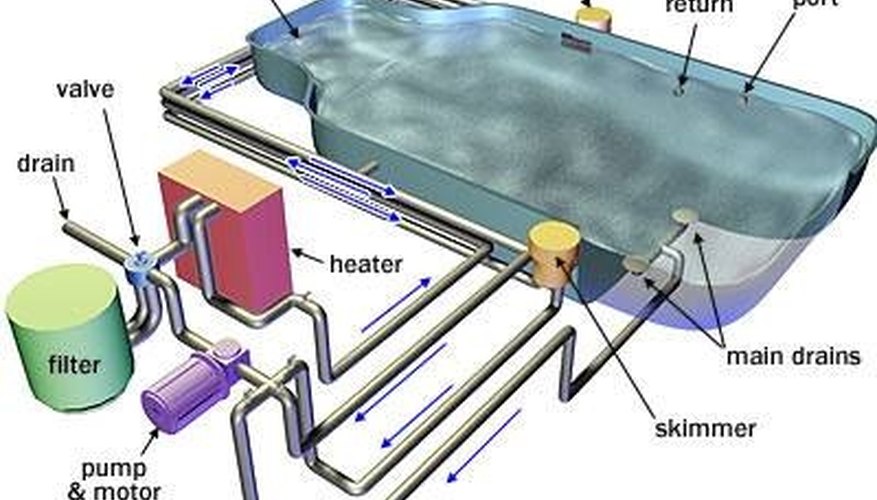 Technically a swimming pool pump is just the motor assembly of a pool's filtration and heating system, rather than the entire thing. But it would be incomplete to only describe the motor and not the entire assembly as a whole. The pump provides the motive force for a system of tubes and drains, which exist for the purpose of filtering out any debris or algae that may form in the pool.
The Structure
The average sized private home swimming pool has two drains, one that skims water from the top of the pool, and the other situated at the lowest point on the pool floor. Unsurprisingly they are known as the skimmer and main drain respectively. The pipes connected to the two drains lead to the pump, then to the filtration system, then to the water heating system, before splitting again into two or three water return ports situated in the sides of the pool, known as jets.
How Does a Swimming Pool Pump Work?
The pump looks a bit like an unevenly shaped cylinder. It's electrically powered, hardwired into the house's circuit. Two pipes are connected to the sides of the pump, an intake and an output. The primary chamber inside the pump is open to both pipes and contains a turbine or fan blade assembly connected to the engine by a pin running through its central axis. When this blade begins to spin the centrifugal forge it generates pulls water into the chamber from the intake pipe and passes it through the output pipe. From the output pipe, the water passes directly into a canister filter, another closed chamber that has a large filter made of tightly meshed material that catches any debris while letting the water through. From this point the water travels to the heating system.
There are many different types of heating systems so the details of this part of the process cannot be definitively provided. But in general, the water is contained within a large chamber and heated by one of many various methods before passing out through the jets into the pool again.