Size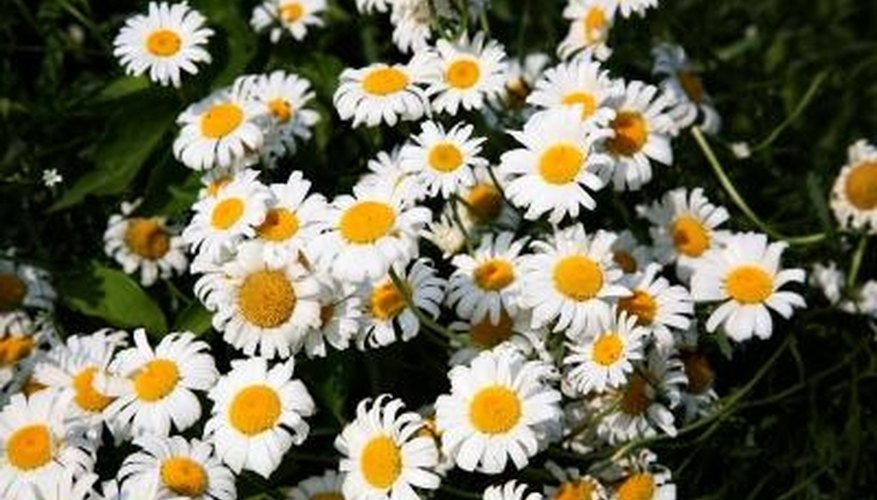 Daylilies, which have large petals with fringed borders, grow up to 3 feet tall and thrive in the spring and summer seasons. Chrysanthemums are similar in height to daylilies, and grow in an abundance of colors, including red, yellow and light purple. Taller perennial flowers include the foxglove, a slender plant with flowers that bloom in the latter part of spring and grows to a height of 60 inches in maturity.
Colors
Bright red blooms include the Gerbera daisy, which is round in shape, and the red hibiscus, a tropical flower with striking, cherry-red petals. Jacob's ladder are among the purple perennial blooms, and features tiny, indigo flowers among spiky, dark green leaves. Hyssop is another perennial that blooms in purple -- the cylindrical flowers atop the stem are a lavender shade. Bright-yellow perennial flowers include the globeflower, which has a ball-shaped center in sunshine-colored petals.
Soil and Sun
The peony, which commonly blooms in pastel hues, needs full sun to grow well, as well as soil that is well drained and a little acidic. The red valerian flower, a spring perennial that grows up to 3 feet, requires full sun as well, but needs alkaline soil to thrive. Bright-purple seathrift flowers have to be planted in sandy soil; however, the soft yellow blooms on the spurge flower can't develop without moist soil.