Potential Customers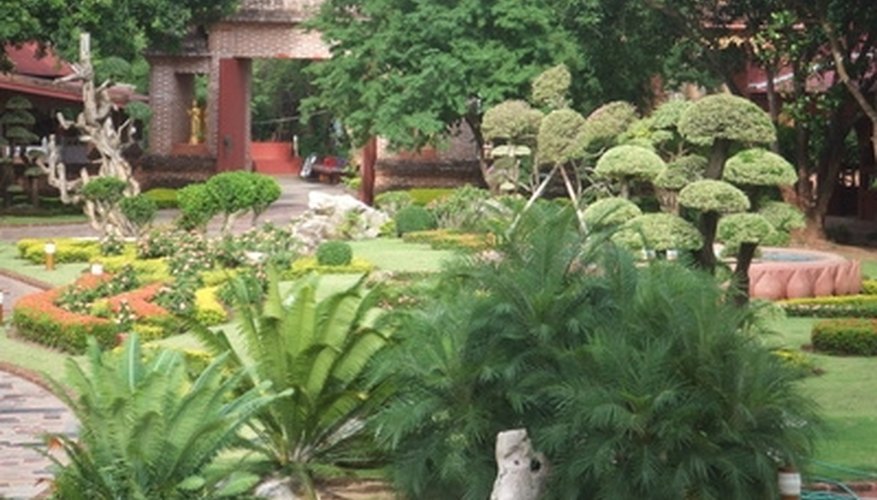 In addition to individual homeowners, a landscaper can find business opportunities, anywhere there are lawns and gardens to be maintained, such as municipal parks, golf courses, botanical gardens, hotels, schools, colleges and the grounds and indoor plantings of business premises.
Requirements
A professional landscaper must have significant knowledge in many areas. These include: the environment, botany, climate, topography, planting zones, landscape installation, plant materials, soil science, and pest and disease identification and control. He must also have a willingness to undertake hard, manual labor and work in all types of weather.
Services
The services that a landscaper performs will include everything pertaining to the development and maintenance of the outdoor area. According to the Bureau of Labor Statistics, they landscape or maintain grounds of property using hand or power tools or equipment, performing a variety of tasks, which may include any combination of the following: sod laying, mowing, trimming, planting, watering, fertilizing, pruning, digging, raking, sprinkler installation, and installation of structures such as walls and gazebos. A landscaper will also work with other professionals such as landscape designers and arborists. In areas where swimming pools are commonplace, landscapers may even be expected to maintain these.
Training
A professional landscaper will generally have undertaken some formal vocational training. Apprenticeships are commonplace, and combine theoretical and academic studies with hands-on experience. Degree programs in subjects such as horticulture, botany and landscape architecture are also available and take three to four years to complete. Online and distance learning programs are also available, and can be completed at a pace that is suitable to the student.
Pricing
In developing a price for services, it is important to take a number of factors into consideration, such as costs of formal education and training, business start-up costs, equipment, transportation and other typical overheads such as office expenses. The time a project will take to complete should also be factored in, as should the costs of materials, the geographic location, and the sophistication and expectations of clients. It is also important to compare prices against those of local competitors. Department of Labor statistics for 2010 indicate that a landscaper may expect to receive approximately $15 to $20 per hour.