History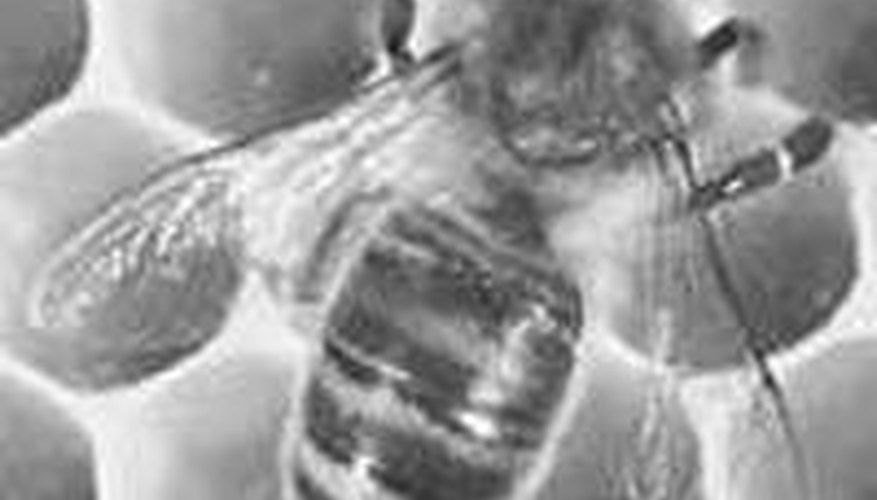 Throughout history, honey bee nests, or hives, have been a revered part of nature. American Indians celebrated the month of July, referring to it as the honey month, when the nests of the honey bee supplied them with a bountiful supply of sweetness during the honey season. Later, early scientists and farmers would come to know the value of the honey bee, not only for what its nest had to offer, but for the effect its pollination practices had on crops and fruit trees. The plight of honey bees and their hive still receives the same respect by today's agriculturalists, who continue to value their contributions.
Identification
The nests of honey bees are denoted by their elaborate structures. Worker bees secrete wax from their mouths to create the six-sided structures known as honey combs. It is inside these chambers that pollen is transformed into honey. Enzymes inside the nest break down the nectar particles, creating nourishment for the bee community, and forming the sweet substance that we have come to love. Once the honey is produced, worker bees place another layer of wax over the chamber to seal and protect the end product. The work continues inside the nest for as long as the colony decides to occupy it.
Benefits
As honey bees seek nectar to nourish their nests, they move from flower to flower, inadvertently pollinating each plant as they push forward. It is because of these efforts that we are able to maintain and harvest abundant amounts of food. In fact, the majority of natural foods we consume would not be available were it not for bees. Besides the obvious benefits of pollination, we enjoy what the nests themselves provide: Honey and beeswax, which has been used throughout history to make stationary seals and candles.
Warning
Honey bees that have infiltrated the walls of homes can pose a danger, not only to people, but to pets as well. Nests may contain upward of 50,000 bees at any given time and, if disturbed, there is the risk of swarming. Although honey bees do not seek out humans, they will attack if disturbed. Seek expert advice on how to remove a nest without putting yourself or others in danger.
Theories/Speculation
There has been much speculation concerning the future of the honey bee. Most recently, the theory has been posed that the honey bee is disappearing. This is having a detrimental effect on agriculture and on the honey supply. It has been suggested that the use of pesticides, as well as the magnetic poles of the earth, are to blame. With no bees, there can be no pollination. No organic foods, honey, beeswax nor nests.